Mustangs Topped By Warriors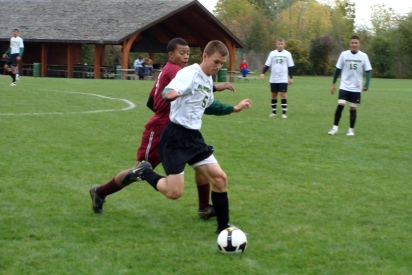 DETROIT, Mich.-The Mustangs met Rochester College for the second time this season on Wednesday afternoon. The Marygrove men looked to avenge a (2-0) loss to Rochester on the road earlier in their campaign.
Both teams locked horns in near freezing temperatures at Pebble Creek Park in Southfield.
The fans that braved the cold temperatures and whipping winds were treated to a competitive 90-minute game between two teams in desperate need of a win. The Mustangs, 2-8 on the season, were looking to get back to their winning ways by erasing the earlier defeat at the hands of the Warriors from Rochester. The Warriors (8-5) are currently fighting for the final playoff spot in the USCAA. A loss against the lower-ranked Mustangs would most likely leave the Warriors on the outside looking in.
The Mustangs chance at playing spoiler took a hit early when the Warriors chipped a goal past goaltender Garrett Gregg for a 1-0 lead. Looking for a goal, the Mustangs relied upon forwards Jordan Berry and Joseph de Verteuil to blast one home. However, the talented duo combined for one shot on goal Wednesday.
Momentum shifted slightly towards the Mustangs when Jordan Largent came up from the back for a laser that was corralled by the Warriors goaltender. The shot was the only time the Mustangs found a way past the pesky defense of the Warriors in the first half. Despite the effort, the first half would end 1-0 in favor of the visitors.
The Warriors defense came out strong and stymied the Mustang forwards once again in the second. That defense turned into offense when a Warrior defender played a ball over the top to a streaking forward for the second goal of the game. The goal also came at the 52-minute mark and put the Mustangs in a 2-nill hole. Berry came close to bringing the home team back to within one, but his shot narrowly trickled wide left.
Like déjà  vu, the Mustangs ended up on the wrong side of a 2-0 decision against the Warriors. Garrett Gregg kept the Mustangs competitive with seven saves.