Berry & Mustangs Dominate Crusaders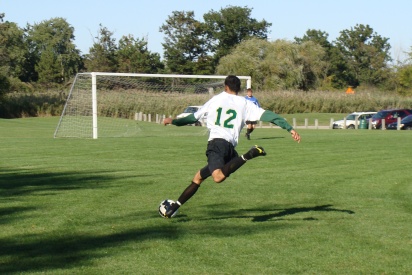 DETROIT, Mich.-On Tuesday, the Mustangs picked up their first home win in program history on Tuesday with a 4-1 decision over the Crusaders of Great Lakes Christian College. The win marked the third of the season and the second against the Crusaders this season.
The Mustangs jumped on top of the visiting Crusaders early when Jordan Berry scored his first of three goals only (6:00) six minutes into the contest. Huss Seklawi picked up the assist on the go-ahead goal. Berry notched his second goal minutes later to put the Mustangs up 2-nill. Munt Al-hussain led Berry to the goal with a well-placed assist on the play. The Mustangs put the game out of reach when Berry struck for his third and final goal of the game. The final piece to the hat trick was assisted by Huss Seklawi (2nd assist in the game).
A late Crusader goal put them back within striking distance at the half. The goal would put the Crusaders within two goals at a 3-1 tally.
A strong start to the second half led to another Mustang goal at the 51-minute mark. Jordan Largent capitalized off his own rebound that ricocheted off the goalie for the Mustangs fourth goal of the contest. The goal would be Largent's second of the season. Both teams battled to a scoreless final 30 minutes of play to secure a 4-1 victory for the Mustangs.
Freshman goalkeep Garrett Gregg was awarded the win in net. Gregg turned away six Crusader shots on the afternoon.
The win moves the Mustangs inaugural season record to 3-9. Two wins have come at the expense of the Crusaders, with the other at the hands of NCAA Division III Defiance College.