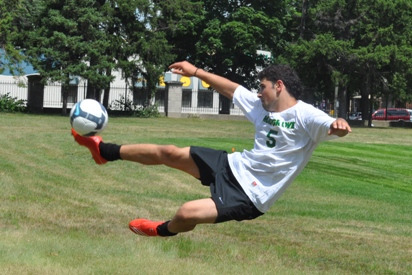 DETROIT, MI–Coach Johnson picked up another talented student-athlete as preseason workouts near. Dearborn Fordson's Hussein Seklawi was the latest to sign. He joins an exciting inaugural class that is set to kick-off the season on September 2nd at Concordia.
Seklawi, a 5'11" defender, has been playing soccer his entire life through both his school and various club teams. He started off a great high school career by winning the Rookie of the Year award. Seklawi brings valuable championship soccer experience after playing on a highly-skilled team in high school. Recently, Seklawi helped lead his team to a 17-1-1 season during his senior campaign. He looks forward to giving it his all at Marygrove and considers it a great achievement to be signed under such an upbeat program.
Coach Johnson on Seklawi: Huss is a young man with a lot of energy. He works very hard to improve himself both on and off the field. I am excited to add another dynamic personality to our roster for 2009.