Late Rally Hinders Mustangs Upset Bid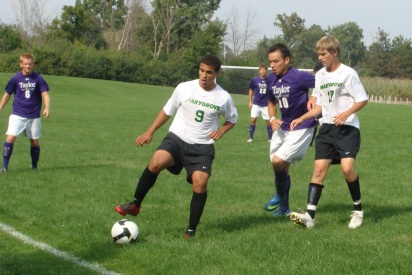 DETROIT, Mich.-The Mustangs looked like a completely different team as they hit the pitch against Concordia University for the second time this season Wednesday afternoon. The first meeting was dominated by the Cardinals in a 6-0 season-opening affair.
Both teams came out with strong play and found it hard to get anything past the opposing defense. The visiting Cardinals (5-8-2, 3-7 WHAC) struck first with a goal at the 28-minute mark to go up 1-nill. It was then that everyone in the stands prepared for what happened during the season-opening loss.
The resilient Mustangs bounced back with a couple runs down the field. Leading goal scorer Jordan Berry capitalized on a Cardinal mishap and dribbled in it for the game-tying goal.
After playing to an even (1-1) first half, the Cardinals pleaded with each other to put away the dangerous Mustangs before they picked up enough momentum. The NAIA foe did just that as they pushed one past freshman goalkeep Garrett Gregg to take a 2-1 lead.
Freshman midfielder Joe de Verteuil had an opportunity to tie the game in the 74th minute but came up empty on a solid Cardinal save.
The Cardinals never looked back as they added two goals in the final six minutes of play to take a 4-1 road decision. The Mustangs proved to the Cardinals and the rest of the NAIA world that they will be a force to be reckoned with for years to come.
Despite a few late goals, the team from Marygrove battled the stronger Cardinal squad to a near upset. The hard-fought loss was an accomplishment in it's own due to the early season lopsided affair between the two teams.
The Mustangs will finish their inaugural season this Saturday at Cornerstone University. Game time is set for 2:30pm. GO MUSTANGS!