Mustangs Steamroll Rochester for 1-0 USCAA Win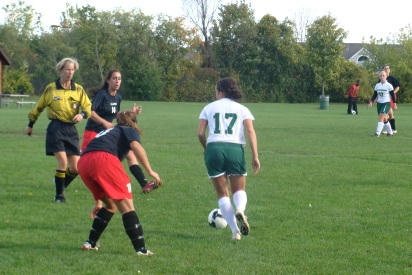 DETROIT, Mich.- The #4 ranked Mustangs squared off against #6 Rochester College on Wednesday afternoon. The game would mark the second time the teams met this season. The first meeting ended knotted up at 1-1.
The Mustangs pressured the visiting Warriors early and often in the pivotal USCAA showdown. Ashley Inglsbee pressed the Warriors early for what was thought to be the go-ahead goal. A late offside call nullified Inglsbee's moment to keep the game frozen at 0-0. The Mustangs continued to apply pressure throughout the first half. Their attempts ran dry as the first forty-five expired with a 0-0 score.
An early second half strike put the Mustangs ahead at the 50-minute mark. Amber Williamson dropped a perfect ball to former high school teammate Sarah Kator for the goal. Kator's early second half goal would prove to be the difference as the game went final with a 1-0 score in favor of the Mustangs. The Mustangs defense held the Warriors at bay by only allowing one shot on goal in the 90-minute one-sided affair.
Goalkeeper Shana DeVoe recorded another shutout with the assistance of the Mustang defense consisting of Karlee Derrick, Laura Nail and Jessie Niemi. The Mustangs look to move up in the USCAA polls after the win over Rochester College. A 10-day break separates the Mustangs from their next contest at Cornerstone University on 10/31. Until then, the 7-3-2 first year team will patiently await a bid to compete in the 2009 USCAA National Championship Tournament.