Women's Basketball Falls at Home to Lourdes, 91-73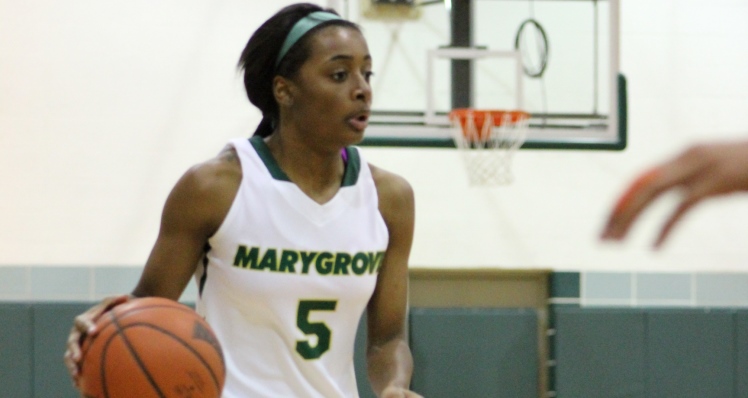 DETROIT, Mich. – The Marygrove women's basketball team (2-23, 0-18 WHAC) hosted the Lourdes University Gray Wolves (6-19, 4-14 WHAC) Saturday (Feb. 8) for a Wolverine-Hoosier Athletic Conference contest held inside Detroit's Northwest Activities Center.  The host Mustangs kept pace with the Gray Wolves early, but fell behind by as many as 21 in the second half to drop the conference game, 91-73.
In the first half, the Mustangs were led by senior Ciara Moore (Detroit, Mich./Northwestern) as she tallied 16 of the team's 33 points.  As a team, Marygrove shot well from behind the arc with 15 of their points coming from distance.
Although Lourdes had a strong half offensively, the Mustangs put forth a stellar defensive effort to prevent the Gray Wolves from pulling away too far in the opening stanza. Â The defensive effort was led by Moore, who had a pair of steals that were converted into four points. Freshman Breomi Jackson (Detroit, Mich./ Tennessee State) protected the rim early with two first half blocks.
A late technical foul on the Mustangs' bench and a foul as time expired allowed the Gray Wolves to balloon their halftime lead to 40-33.
To begin second half play, the Gray Wolves capitalized on a slow Mustang start jumping out to a commanding 21-point lead. Marygrove persevered with a strong effort down the stretch; however, stingy defense and sharp shooting from the Gray Wolves' Lauren Tilden and Tarynn Hampton kept the Mustangs from getting within striking distance in the 91-73 setback for the Mustangs. 
Marygrove was led by junior Raeha Weaver (Battle Creek, Mich./ Kellogg CC), who tallied a Marygrove career-high with 23 points to go along with five steals, two assists, and a rebound. Â Arielle Edwards (Grand Rapids, Mich./ Ottawa Hills) and Moore contributed nicely by dropping in 17 points each.
Lourdes was led by Tilden with a game-high 31 points.
The Mustangs will hit the road Wednesday (Feb. 12) to take on WHAC opponent Siena Heights University at 6 p.m.
Follow women's basketball on twitter:Â @MGroveWBBALL
GET CONNECTED: Facebook | Twitter | Instagram | YouTube
Follow Marygrove's new team on twitter:Â @MGroveBASEBALL