Volleyball Rolls in Regular Season Finale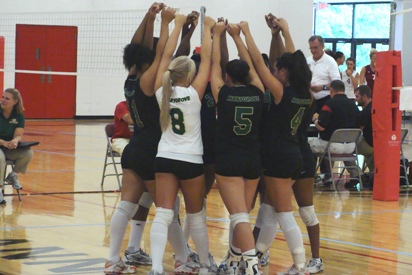 LANSING, Mich.-Oh what a year it has been! The Mustangs added five new sports to their athletics slate heading into the 2009 season. On Friday, the volleyball version of the Mustangs traveled to Lansing for their regular season finale at Great Lakes Christian College.
The Mustangs wasted no time in dispensing the Crusaders of Great Lakes Christian by sweeping the match (25-9, 25-22 and 25-22). Contributions were made by everyone in the three set rout. The win ends the Mustangs inaugural regular season at 9-21.
However, the Mustangs may live to play another day in 2009. Hope is still alive with the final Association of Independent Institutions (A.I.I.) conference ratings yet to be released. A trip to Texas for the A.I.I. Conference Tournament may be in order if the Mustangs finish in one of the top eight spots in the final poll. www.marygrovemustangs.com will be the first to report the Mustangs postseason fate when it becomes available. GO MUSTANGS!