Lawrence Tech Comes Back to Defeat Volleyball in Four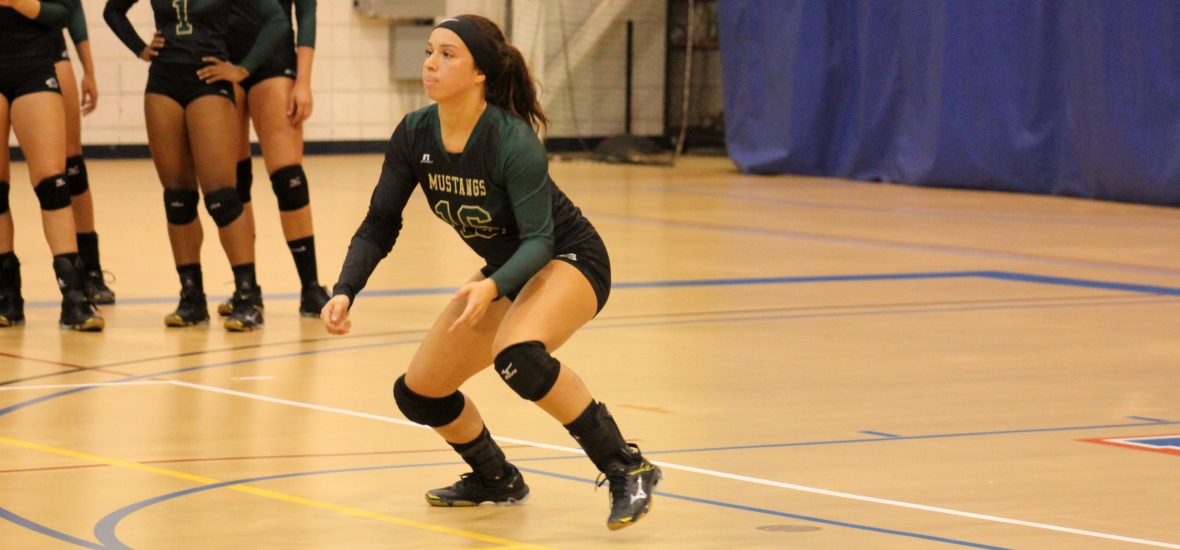 STAY CONNECTED: Facebook | Twitter | Instagram | YouTube
BE THE FIRST TO KNOW:Â Text & Email Alerts
DOWNLOAD OUR APPS:Â iOS (iPhone/iPad)Â |Â Android
SOUTHFIELD, Mich. — Marygrove volleyball fell to 2-15 overall an 0-9 WHAC play after dropping Wednesday's (Sept. 30) WHAC contest to the host Blue Devils of Lawrence Tech, 3-1, in Southfield. The Mustangs won the first set and seemed poised to run away with the contest, but the Blue Devils (6-16, 3-6 WHAC) raced back to earn the conference victory in a hard-fought four-set match.
The Mustangs took set one, 25-21, behind a late push that saw the Green and Gold end the opening stanza on a 7-4 run to earn the advantage in the conference contest. A kill and service ace by Ashley Murphy (Southfield, Mich./Clarenceville High School), combined with three Blue Devil errors, fueled set-ending 7-4 run to lift the Mustangs to a 1-0 lead in the match.
Set two featured another back-and-forth contest that ended in favor of the Blue Devils. Facing a 24-19 hole, the Mustangs battled back for four-consecutive points with Alixandria Pappas (St. Clair Shores, Mich./Lakeview High School) leading the charge. Down 24-23 and holding serve, the Mustangs were edged by the Blue Devils as Lexi Szymoniak slammed down a kill to even the match at one set each.
The Blue Devils took advantage of the second set win to claim a victory two frames later behind 58 team kills. The Mustangs countered with 30 kills of their own, led by Murphy's team-best seven converted attacks. Pappas and Rachel Staudt (Novi, Mich./Lawrence Tech) tallied six kills each, while Brenna Donnelly (Yale, Mich./Mott Community College) connected on five of her own.
Hayley Jury (Plymouth, Mich./Ladywood High School) recorded 21 assists, seven digs and four kills in the conference setback. Amber Kelly (Mt. Morris, Mich./Mt. Morris High School) set the pace defensively after working her way to a match-high 20 digs.
The Mustangs continue their road trip with a pair of conference matches away from home this weekend. The Green and Gold visit Siena Heights Friday (Oct. 2) at 7 p.m. before traveling to Grand Rapids, Mich. to take on Aquinas at 1 p.m. on Saturday (Oct. 3).
WOMEN'S VOLLEYBALL CONTACT: Tim Johnston | [email protected]/* */ | @tjohnston56
MARYGROVE BROADCASTS:Â The Mustang Sports Network (MSN)Â |Â MSN Twitter
WOMEN'S VOLLEYBALL:Â Twitter