Crockett, Houston Finish Back-to-Back in 600m at GVSU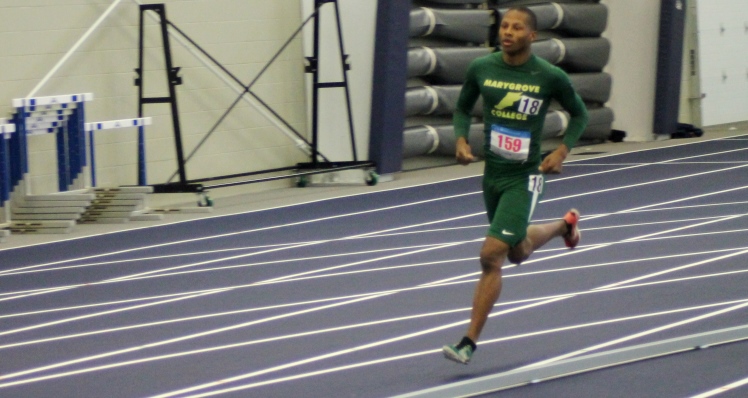 ALLENDALE, Mich. — The Marygrove men's indoor track & field team took part in day one of Grand Valley State University's Big Meet Friday (Feb. 14) in Allendale. The event, held inside Grand Valley's Kelly Family Sports Center, featured participants from all over the region including student-athletes from NCAA Div. I, II, III, and NAIA programs.
The Mustangs entered a pair of student-athletes in the first day of competition Friday as Robert Crockett (Detroit, Mich./King) and Marcell Houston (Detroit, Mich./Mumford) took part the 600m event late into the day's competition.
Crockett and Houston, a duo that has worked out together year-round for head coach LaCema Womack's Mustangs, finished back-to-back in the 600m event with Houston edging out his teammate by a mere point-seventy-ninth (.79) of a second. Houston came in 28th in a packed field of participants at 1:28.03, while Crockett followed closely with a time of 1:28.82 for 29th place.
The pair topped a member from Cornerstone and a pair of NCAA Div. II runners from Saginaw Valley State University to avoid finishing lower than 30th in the talent-laden event. Despite the near mirrored times, Houston and Crockett ran in separate heats in Friday's 600m event.
Friday's Big Meet was tabbed National Meet of the Week by the USTFCCCA for NCAA Div. II events. The Big Meet is expected to host over 2,400 entries throughout the two-day weekend event.
The Mustangs will now ready for the Wolverine-Hoosier Athletic Conference (WHAC) championships Saturday (Feb. 22).
Follow men's track on twitter:Â @MGroveTRACK
GET CONNECTED: Facebook | Twitter | Instagram | YouTube