Indiana Tech Uses Strong Start to Top Women's Basketball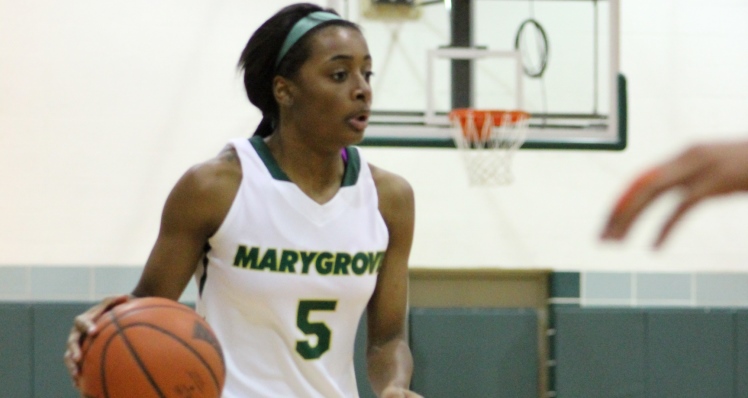 DETROIT, Mich. — The visiting Indiana Tech Warriors (17-12; 14-7 WHAC) started Wednesday's (Feb. 19) Wolverine-Hoosier Athletic Conference (WHAC) game on an 18-0 run and never looked back as they dashed past the Marygrove women's basketball team by a 95-53 final. The loss drops the Mustangs to 2-26 overall and 0-21 in WHAC play with one game remaining on the 2013-14 slate.
The Warriors raced out to the 18-point advantage behind Rachel Kruse's strong start. The Warrior senior guard shot her way to 1,000 career points early on in the contest to help her team take the lead. The Mustangs finally answered at the 12:10 mark of the first half when promising freshman forward Breomi Jackson (Detroit, Mich./Tennessee State) connected on a shot from the paint.
Jackson's shot put the Mustangs on the board, but the Warriors remained in command of the opening half. With shots not falling for the home team, the Warriors continued their torrid pace by taking a 30-point lead over the Mustangs at the half, 51-21.
In the second half, the Warriors continued their scoring spree as they eventually took the weekday WHAC showdown by 42 points.
The Mustangs were outdone by an unlucky performance from the field, shooting 25-percent for the game. Indiana Tech countered with a 50-percent clip connecting on 30-of-60 from the floor.
Raeha Weaver (Battle Creek, Mich./Kellogg CC) led the Mustangs with 14 points, while Asia Cooks (Bakersfield, Calif./Stockdale) and Adrienne Weaver (Flint, Mich./Mott CC) followed with seven each.
The Warriors received a game-high 23 points from Kruse.
The Mustangs' last game of the season, Saturday, will also mark Senior Day 2014 as the athletic department readies to honor the careers of six student-athletes: Arielle Edwards (Grand Rapids, Mich./Ottawa Hills), Candice Minus (Flint, Mich./Mott CC), Ciara Moore (Detroit, Mich./Northwestern), Kaitlyn Pusey (Holly, Mich./Holly), Anastasia Smith (Cleveland, Ohio/Bluefield State) and Adrienne Weaver (Flint, Mich./Mott CC). A brief senior day ceremony will take place five minutes prior to the 3 p.m. men's basketball game.
Follow women's basketball on twitter: @MGroveWBBALL
GET CONNECTED: Facebook | Twitter | Instagram | YouTube
Follow Marygrove's new team on twitter:Â @MGroveBASEBALL