Free Throws and Turnovers Haunt Mustangs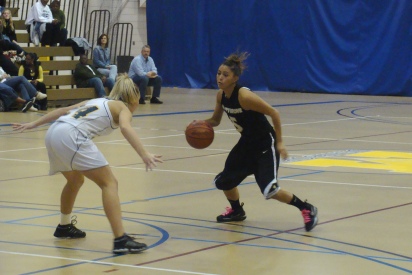 DEARBORN, Mich.-The Mustangs started their season on the wrong foot Saturday at U of M-Dearborn. The Wolves used a strong second half to put away the Mustangs, 86-61.
The day was finally here. Time for the 2009-10 season to tip-off. The excitement only lasted for a half before the Wolves trounced the Mustangs for a 51-point second half. The Mustangs only trailed by six at the half (35-29) after missing nine free throws.
Adjustments were made at the half, but they were to avail as the Wolves capitalized on every opportunity the Mustangs threw their way. In the end, turnovers, along with missed free throws (13-33 for 39%) haunted the Mustangs on their season-opening Halloween matchup.
A balanced offensive attack was led by senior Shantae Nash with 11 points. She was followed by freshman forward Keara Wilson with nine points and sophomore Kiara Kelley with seven.
Sophomore guard Maria Martin added a well-rounded offensive attack with six points and eight assists.
All five Wolves starters reached double-figures. Katie Roberts and Kim Lackowski shared a game-high of 19 points.
The Mustangs return home to heal their wounds for their next contest. The home-opener will be held on November 4th at 7pm when the Cardinals of Andrews University come to town. The game will begin a three-game for the youthful Mustangs squad.