Jeremy Otto Wins Stretch Internet's Call of the Year Contest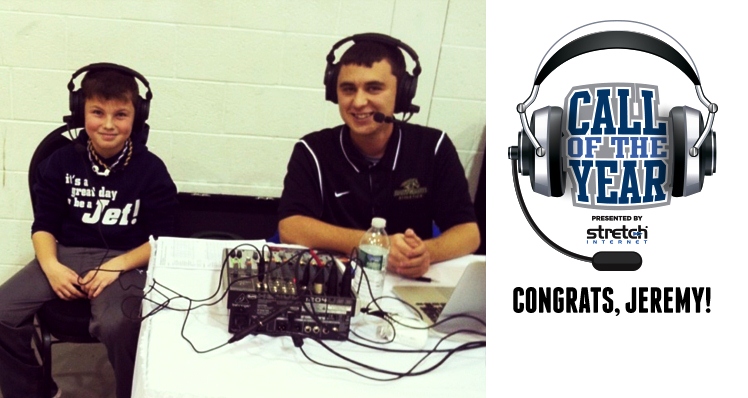 STAY CONNECTED: Facebook | Twitter | Instagram | YouTube | Recruit Interest Form
GET THE LATEST NEWS & SCORES SENT STRAIGHT TO YOU:Â Text & Email Alerts
DOWNLOAD OUR FREE MOBILE APPS:Â Apple (iPhone/iPad)Â |Â Android
DETROIT – Jeremy Otto, the Voice of Marygrove Athletics and sports information student assistant, was named the winner of the 2014 Stretch Internet Call of the Year Contest Monday (June 30) by the Arizona-based web streaming company. Otto's game-winning call covering Marygrove volleyball's first WHAC win earned him Stretch Internet's top call of the 2013-14 athletics season – his first with the NAIA school situated in northwest Detroit.
RELIVE OTTO'S CALL OF THE YEAR HERE
In all, Otto topped the 27-entry field from NCAA Division I, II, III and NAIA institutions to win a free iPad Mini courtesy of Stretch Internet – the largest streaming provider in all of collegiate athletics with a footprint of more than 400 schools and a client-base extending beyond the athletics arena.
A soon-to-be college sophomore, Otto came to Marygrove in the summer of 2013 to help Tim Johnston, Assistant Athletic Director for Communications & Events Management, expand the Mustang athletics brand by launching live broadcasts for all home games and select road contests. The pair started the Mustang Sports Network and Otto went on to broadcast 63 games over the course of the 2013-14 athletics season. Otto also posted over 120 videos capturing pre-and-post game interviews, game highlights, and more throughout his freshman year to help the athletic department engage more fans and followers than ever before.
"It is an honor to receive the title of Call of the Year," said Otto. "I want to thank all who took the time to vote for me when the contest started. The votes allowed me to advance to the top eight and eventually win. I also want to thank the Stretch Internet staff, who was responsible for picking the top three, and eventually named my entry the Call of the Year. Credit definitely goes to the volleyball team as well for providing the great moment to call. I can't wait for the new athletic year to start! We are currently working on new additions to the Mustang Sports Network that will make the experience even better for the fans in 2014-15."
Johnston is thankful for Otto's hard work and looks forward to continued success next year.
"Jeremy addition to Marygrove athletics is invaluable," said Johnston. "Jeremy goes above and beyond for the department and has a great passion for broadcasting. I am thankful Jeremy was confident in the vision and direction of Marygrove athletics and the Mustang Sports Network. Jeremy is an exceptional talent and an even better person. He will continue to excel in what he does because of his willingness to learn and improve every day. Congrats, Jeremy!"
Beginning in August 2014, the Mustang Sports Network will launch free live video to their home game coverage and will continue to cover select road games via live audio.