Berkley's Baker Becomes 19th to Join Marygrove Baseball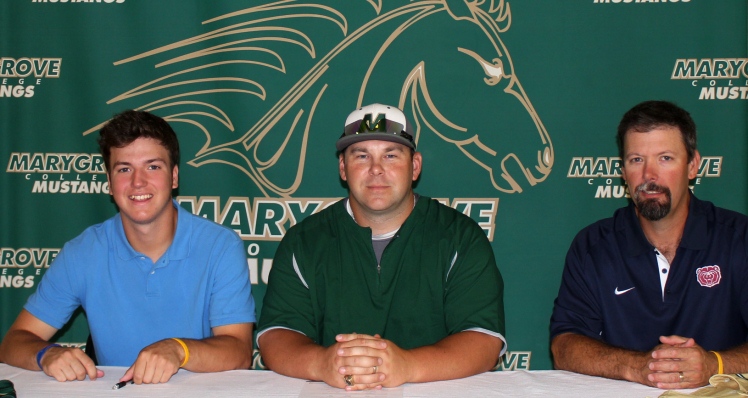 STAY CONNECTED: Facebook | Twitter | Instagram | YouTube | Recruit Interest Form
GET THE LATEST NEWS & SCORES SENT STRAIGHT TO YOU:Â Text & Email Alerts
DOWNLOAD OUR APPS:Â iOS (iPhone/iPad)Â |Â Android
DETROIT — The summer of signings continued for head coach Ryan Kottke and the newly-formed Marygrove baseball program Wednesday (July 9) when 2014 Berkley High School graduate Jacob Baker inked a Letter of Intent to play at the Detroit-based NAIA school this fall. Baker's signing marks the 19th for Kottke's first year program with more commitments expected in the near future.
MARYGROVE BASEBALL IN THE NEWS: TIGER STADIUM PLANS COULD INVOLVE MARYGROVE BASEBALL
Baker, a 5'11 pitcher and first baseman, will step foot onto the Marygrove campus fresh off of a highly successful three-year career for the Bears of Berkley High School where he finished his final two seasons with back-to-back team MVP honors. The talented left-handed pitcher and first baseman also received Oakland Activities Association (OAA) Blue Division All-League and All-District team nods to culminate well-rounded junior and senior seasons.
The lefty's stellar career was made even more special because one of Baker's coaches at Berkley also happened to be his father, Steve Baker, a former local standout in his day. The duo helped the Bears win a pair of OAA Blue Division Championships over the course of the past three seasons.
With his high school playing days behind him, Baker is now focusing on his transition to collegiate baseball and is currently playing with the well-known Crush travel team this summer. Like many of his new Mustang teammates, Baker received a substantial academic scholarship from Marygrove after he was named to Berkley's honor roll all four years of his high school career.
COACH KOTTKE'S TAKE
"Jake is a left-handed pitcher that we would love to see in our rotation come spring season," said Kottke.
"Along with being a very good pitcher, Jake will have a chance during fall practice to earn a DH roll as he has tremendous pop in his bat. I'm really looking forward to introducing Jake to a regimented lifting program to see what his ceiling is."