Baseball Heads to Indy for Four-Game Set with IU-Southeast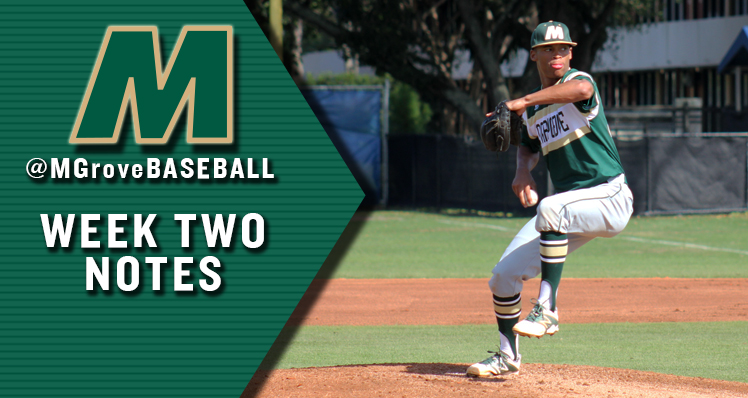 COMPLETE WEEK TWO GAME NOTES (PDF)
SATURDAY, MARCH 14
Marygrove (1-6, 0-0 WHAC) at Indiana University-Southeast (6-4, 0-0 KIAC)
Time: 4:30 p.m., 7 p.m. (doubleheader)
Location: Grand Park — Westfield, Ind.
Coverage: Live Audio (4:20 p.m.)
SUNDAY, MARCH 15
Marygrove (1-6, 0-0 WHAC) at Indiana University-Southeast (6-4, 0-0 KIAC)
Time: 12Â p.m., 2:30Â p.m. (doubleheader)
Location: Grand Park — Westfield, Ind.
Coverage: Live Audio (11:50 a.m.)
BY THE NUMBERS
6:Â In one of the more dramatic games that could be played during the Mustangs' inaugural campaign, the Green and Gold battled back from a five-run deficit in the first and a four-run hole in the seventh and final inning, tallying six (6) runs in the final frame to put a cap on a thrilling 11-10 win over Florida Memorial on Thursday (Mar. 5).
11:Â The Mustangs lucky number in Florida was 11. The team tallied 11 runs in an 11-10 comeback victory over Florida Memorial on Thursday (Mar. 5) and backed that 11-run performance up with an 11-hit game in the nightcap against the same Florida Memorial squad. Sticking with the theme, the Mustangs also notched 11 hits in an 9-5 setback at Ave Maria on Mar. 3.
3: The Mustangs' offense started to find its groove later in the inaugural week of play, led by  freshman infielder Josh Barnes (St. Clair, Mich./St. Clair High School) and sophomore infielder Chase Younkin (Macomb, Mich./Culver-Stockton College). Barnes and Younkin each collected a three (3)-hit game in Florida, while Younkin also worked his way to a two-hit game.
A LOOK AT INDIANA SOUTHEAST
After starting the year off with a 6-0 loss to Lindenwood-Belleville, the Grenadiers have been on a roll en route to posting a 6-4 overall record. Heading into Wednesday (Mar. 11), the Grenadiers were winners of five straight after toppling then-NAIA No. 1 Cumberland (Tenn.) in three straight to start the streak. The Grenadiers recently swept Trinity Christian (Ill.) – the former school of current Mustang Chris Gittleman – before dropping two against  a tough Indiana Wesleyan squad.
GRENADIER LEADERS
The Grenadiers have launched out to a 6-4 record behind the best mix a coach could ask for, solid hitting and shut-down pitching. IU-Southeast has 10 players with two-or-more RBI, with half posting at least five RBI. Logan Couglin leads the Grenadiers in home runs (2), RBI (7) and slugging percentage (.565), while Marcus Howard boasts a team-best .379 batting average. On the mound, the Grenadiers are led in ERA by Kyple Rupe (0.90) and are paced in strikeouts by Michael Fitzwater with 10.
MUSTANG REWIND
The Mustangs were able to pick up their first win in program history Thursday (Mar. 5) with an 11-10 come-from-behind victory at Florida Memorial. Freshman Mavrick Dube led a brilliant Mustangs comeback with a game-high four RBI on the day, including his game-tying squeeze bunt that scored teammate and fellow outfielder Drew Johnson (Trenton, Mich./Trenton High School). 
COMPETING AGAINST THE BEST
As expected, two of the Mustangs' Florida opponents vaulted into the NAIA Top 25 this week. Northwood (Fla.) shot up to No. 7 in the first poll of the year while St. Thomas (Fla.) chimed in at No. 12 in the nation.
ON THE MOUND
After competing against veteran teams in Florida, the Mustangs will once again turn to their freshman this week at IU-Southeast. Jacob Baker (Berkley, Mich./Berkley High School) leads all starters with a 5.62 ERA.
DUBE COMES UP BIG
Freshman outfielder Mavrick Dube (Warren, Mich./Mott High School) came up huge for the Mustangs when the team needed him the most last week in Florida. In the Mustangs' 11-10 win over Florida Memorial on Mar. 5, Dube knocked in a team-high four RBI – a total that matches season bests for any other Mustang. A sign of more to come, Dube's first collegiate hit was also the outfielder's first RBI to give the Mustangs a 4-0 lead over Ave Maria on Mar. 3.
GITTLEMAN'S STEADY PRESENCE
One of two seniors on the first-year Marygrove baseball roster, middle infielder Chris Gittleman (Windsor, Ontario/Trinity Christian College) was a steady presence for the Mustangs all week long in the Florida sun. Gittleman posted a team-leading .364 batting average in 11 plate appearances to go along with a team-best six walks and a .556 on-base percentage. The senior was also steady in the field by helping turn a pair of double plays on his way to a .955 fielding percentage through the first seven games.
BLANDFORD TOUGH OUT OF THE PEN
Freshman catcher and relief pitcher Trey Blandford (Louisville, Ky./Fern Creek High School) was exceptional out of the pen for first-year head coach Ryan Kottke and the Mustangs last week. Blandford posted a team-best 4.50 ERA in six innings of work, striking out five batters to earn a .240 opposing batting average and a 1.17 WHIP (walks and hits per innings pitched).
HANGING ON TO THE LEAD
Despite going 1-6 in Florida, the young Mustangs held a lead in four out of the seven games played in the Sunshine State, including a 5-4 lead over Ave Maria heading into the fifth of a seven inning game.
EXTENDED COVERAGE ALL SEASON!
Join Jeremy Otto and Jimmy Stewart all season as they bring you Marygrove baseball live on the Mustang Sports Network at marygrovemustangs.com/live! Look for game day previews, highlights and more as well on the home of Marygrove athletics, marygrovemustangs.com!
@MGroveBROADCAST's SERIES PREVIEW & WEEKLY RECAP
FIRST WIN — POSTGAME INTERVIEWS
STAY CONNECTED: Facebook | Twitter | Instagram | YouTube
BE THE FIRST TO KNOW:Â Text & Email Alerts
DOWNLOAD OUR APPS:Â iOS (iPhone/iPad)Â |Â Android
BASEBALL CONTACT: Tim Johnston | [email protected] /* */ | @tjohnston56
MARYGROVE BROADCASTS: Mustang Sports Network | Twitter
FOLLOW THE TEAM 24/7:Â Twitter