Women's Soccer Falls on the Road at Concordia-Ann Arbor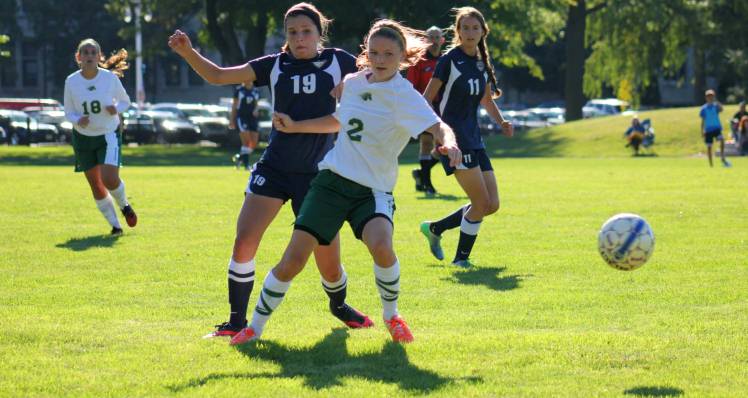 STAY CONNECTED: Facebook | Twitter | Instagram | YouTube
BE THE FIRST TO KNOW:Â Text & Email Alerts
DOWNLOAD OUR APPS:Â iOS (iPhone/iPad)Â |Â Android
ANN ARBOR, Mich. – Three goals in each half doomed Marygrove women's soccer (1-8-0, 0-1-0 WHAC) in their 2014 Wolverine-Hoosier Athletic Conference opener as the host Concordia Cardinals (6-1-2, 1-0-0 WHAC) cruised to a 6-0 victory Friday (Sept. 26) in Ann Arbor. Despite the tough final score, the Mustangs generated great looks on target en route to challenging the Cardinals defense on a few occasions, but were unlucky when it came to tallying a goal in the shutout defeat.
The loss is the second straight suffered at the hands of the Cardinals after the Mustangs went 3-0-1 through the first four meetings between the teams.
After allowing a goal in the third minute, the Mustangs countered with a great run to the net when Cheyenne York (Taylor, Mich./Truman High School) got behind the defense for the first of a few one-on-one opportunities with the Cardinals keeper. York's first attempt was stuffed as the Mustangs' all-time leading scorer couldn't get the extra touch needed to tuck the ball around the Cardinals keeper.
The missed counter would be the best chance on net for the Mustangs through the opening 45 minutes as the Green & Gold trailed, 3-0, at the half after the Cardinals added a pair of goals in the midway through the first half.
York would have two more runs on net, but couldn't quite put one past the opposition as the Mustangs were shutout for the fifth time this season. Hailey Varney (Flushing, Mich./Auguste-Patterberg-Schule) had an opportunity to replay her 35-yard free kick goal from Tuesday (Sept. 23), but missed wide right on an attempt from similar distance Friday afternoon.
The Mustangs will continue conference competition Wednesday (Oct. 1) when Lawrence Tech visits Detroit for a 4 p.m. kick.
WOMEN'S SOCCER CONTACT: Tim Johnston | 313-927-1419 | tjohnston@marygrove.edu | @tjohnston56
MARYGROVE BROADCASTS: Mustang Sports Network | Twitter
WOMEN'S SOCCER:Â Twitter