Early Goals Hurt Men's Soccer Against No. 2 Davenport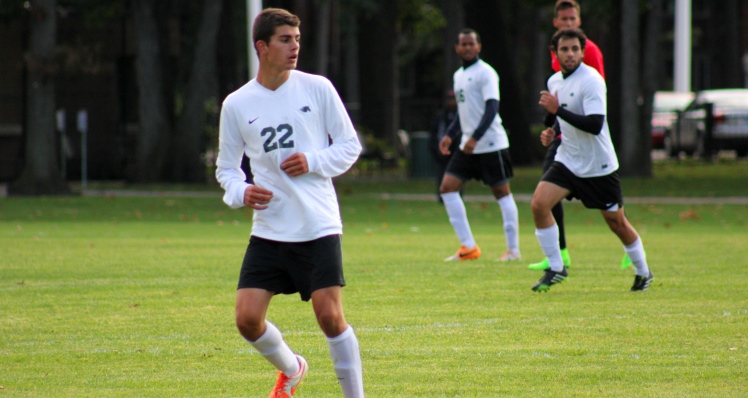 STAY CONNECTED: Facebook | Twitter | Instagram | YouTube
BE THE FIRST TO KNOW:Â Text & Email Alerts
DOWNLOAD OUR FREE APPS:Â iOS (iPhone/iPad)Â |Â Android
DETROIT – The matchup against NAIA No. 2 Davenport did not go as scripted for Marygrove men's soccer (3-8-0, 2-1-0 WHAC) as the visiting Panthers (10-1-0, 3-0-0 WHAC) used two early, gift-wrapped goals to win 5-2 Saturday (Oct. 4) in Detroit. Despite outshooting the national-power Panthers 17-10, the Mustangs could not capitalize on the chances they were given as the visitors rolled by the three-goal margin.
The Panthers deflated a hungry Mustangs squad early after keeper Ryan Plonka (St. Clair Shores, Mich./Macomb CC) could not get on the same page, allowing NAIA leading scorer Dzenan Catic to tally his 18th goal of the season to put his team up, 1-0, in the fourth minute. The goal was the first of two goals for the Panthers in the opening 10 minutes as Tyler Fischer elevated the visitors lead to 2-0 with a 10th minute strike.
The Mustangs would settle in from there, but could not keep the Davenport offense out of the net as the Panthers added to their lead to take a 3-0 lead heading into the half after a 25th minute goal.
In the second half, the Mustangs would not quit as they matched the Panthers output – scoring two goals each – over the final 45 minutes to drop the conference contest by the 5-2 final tally.
Junior forward Oneil Robinson (Montego Bay, Jamaica/Cornwall College) lit the scoreboard up for the Mustangs in the 75th minute by beating the Panthers' keeper to the right side from 10 yards out. Freshman midfielder Andriy Pelekh (Lviv, Ukraine/Salem High School) saw his scoring streak continue after he set up Robinson's goal with an assist sent forward into the box. The freshman has worked his way into the scoring column in every WHAC game so far this season for the Mustangs.
In the final minute, the Mustangs would not go quietly as newcomer Mohamed Alkhulaidi (Sana'a, Yemen/UM-Dearborn) made a run on net to slam home a goal from 10 yards out after the Panthers' keeper couldn't handle a cross sent to the top of the box. The goal marked Alkhulaidi's first points at the collegiate level as the scoring closed on wild and windy fall day at Marygrove College.
The Mustangs continue their 2014 WHAC quest Wednesday (Oct. 8) at Concordia-Ann Arbor with a 4 p.m. kick. There is no in-game coverage scheduled for the weekday WHAC tilt in Ann Arbor.
MEN'S SOCCER CONTACT: Tim Johnston | [email protected] /* */ | @tjohnston56
MARYGROVE BROADCASTS: Mustang Sports Network | Twitter
MEN'S SOCCER:Â Twitter