Mustangs Ink Brinker to 2009 Class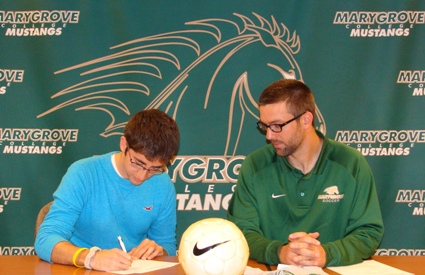 DETROIT, MI–Coach Johnson remained active on the recruiting trail Monday as he signed his second student-athlete of the day. Plainwell High School Keeper Malcolm Brinker inked a letter of intent at his school with Coach Johnson at his side. The 6′ standout is the first keeper to sign with Mustang Soccer.
Brinker's successful high school career was only the tip of the iceberg for the experienced keeper. Playing on a travel team for the past three years, Brinker helped lead his team to two first place and one second place finish at the Canton Cup. His team was champions of the Novi Jaguar Invitational in 2007 and undefeated in 2008. Brinker contributed to the undefeated season by only allowing four goals over a 14-game season (eight shutouts).
Coach Johnson on Brinker: Malcolm personifies the meaning of student-athlete. He shows great focus and determination with his exceptional work in the classroom. I expect those attributes to carry over onto the field this fall.