Volleyball Drops Tough Three Set Match to Lourdes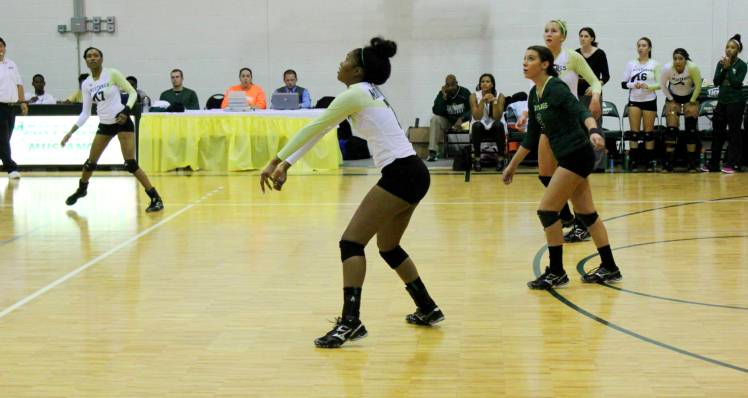 STAY CONNECTED: Facebook | Twitter | Instagram | YouTube
BE THE FIRST TO KNOW:Â Text & Email Alerts
DOWNLOAD OUR APPS:Â iOS (iPhone/iPad)Â |Â Android
DETROIT – Third-year head coach Jamie Baker and the Mustangs fell for the eighth straight time Wednesday (Oct. 8) after being topped by Lourdes University in straight sets inside Detroit's Northwest Activities Center. The Gray Wolves (11-10, 7-5 WHAC) would be challenged by the Mustangs (4-16, 1-11 WHAC) despite winning the match that marked the beginning of the latter half of the WHAC season.
The Gray Wolves won the first set narrowly, 25-20, as the upstart Mustangs aimed to beat the team from Northern Ohio for the first time in program history. The feat would not be accomplished as the Gray Wolves cruised in the second, 25-13, before sneaking past the Mustangs, 25-23, in the third and final set.
The Mustangs put together a strong third set, outdueling the Gray Wolves in hitting percentage .244-to-.130. The 14-kill third set was not enough as the Gray Wolves snuck out of Detroit with the sweep behind 52 kills in the match.
Ashley Murphy (Southfield, Mich./Clarenceville High School) mirrored her output from the last time the Mustangs met Lourdes, slamming home 10 kills to lead the Green & Gold. The Mustangs received a solid effort from the freshman class as Hailey Brandes (Southgate, Mich./Anderson High School) posted five kills, while Paige Hughes (Belleville, Mich./Huron High School) and Skylar Zeigler (Canton, Mich./Belleville High School) chimed in with four kills each.
Stef Compte and Angie Pagan-Perez paced the Gray Wolves effort on the road with 13 and 11 kills, respectively.
The Mustangs will take the weekend off before returning to the court Wednesday (Oct. 15) for a 7 p.m. match at Michigan-Dearborn.
WOMEN'S VOLLEYBALL CONTACT: Tim Johnston | tjohnston@marygrove.edu | @tjohnston56
MARYGROVE BROADCASTS: Mustang Sports Network | Twitter
WOMEN'S VOLLEYBALL:Â Twitter