Kempinski Breaks Digs Record in Season Finale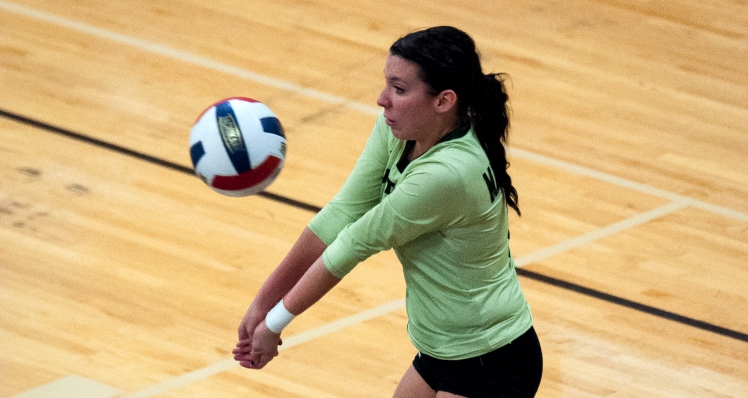 STAY CONNECTED: Facebook | Twitter | Instagram | YouTube
BE THE FIRST TO KNOW:Â Text & Email Alerts
DOWNLOAD OUR APPS:Â iOS (iPhone/iPad)Â |Â Android
LIVONIA, Mich. – The 2014 season ended for Marygrove volleyball, but not before senior libero Kara Kempinski (Livonia, Mich./Schoolcraft College) broke the Mustangs' all-time digs record Saturday (Nov. 8) in Livonia on the campus of Madonna University. Playing in the third WHAC Crossover of the season, Kempinski was able to break the program record in her hometown as the Mustangs (7-25, 2-20 WHAC) fell to the host Crusaders and the Siena Heights Saints (18-13, 10-12 WHAC) to end the 2014 campaign.
MATCH ONE – #16 MADONNA DEF. MARYGROVE (25-12, 25-21, 25-16)
The host Crusaders (33-6, 18-3 WHAC), playing for the WHAC regular season title, raced past the Mustangs in straight sets (25-12, 25-21, 25-16). Kempinski tallied 15 digs to move within 18 of the record, while sister Nicole Kempinski (Livonia, Mich./Schoolcraft College) set up 21 assists in her final outing in the full-time setter role.
Hailey Brandes (Southgate, Mich./Anderson High School) and Ashley Murphy (Southfield, Mich./Clarenceville High School) led the Mustangs with seven and five kills, respectively.
The Crusaders were led by Kayla Vogel with a match-high 11 kills.
MATCH TWO – SIENA HEIGHTS DEF. MARYGROVE (25-18, 21-25, 25-21, 25-16)
[Kara] Kempinski broke the record in the third frame with dig 19 of 26 in the four-set loss to Siena Heights. The senior libero ends her career with over 1,300 digs in only two seasons – adding to a two-year journey that saw Kempinski earn the recognition of 2013 WHAC Libero of the Year. Kiara Cobbs (Detroit, Mich./King High School) posted 10 kills to fall nine shy of the all-time record over an impressive four-year career.
Hayley Jury (Plymouth, Mich./Ladywood High School) paced the Mustangs effort from the setter position with 15 assists, while Murphy led the team in kills again with 13.
"I'm extremely proud of our seniors," said third-year head coach Jamie Baker. "All three have contributed so much to our program and I am extremely thankful to have had the opportunity to coach them. As for the record, Kara deserves it for all of her hard work. Kara and Nicole will be dearly missed because of their effort and intangibles they bring on-and-off the court," added Baker. "Kiara is a great student-athlete. Her athleticism is second-to-none and her growth over my three years hear has been something to behold."
WOMEN'S VOLLEYBALL CONTACT: Tim Johnston | [email protected] /* */ | @tjohnston56
MARYGROVE BROADCASTS: Mustang Sports Network | Twitter
WOMEN'S VOLLEYBALL:Â Twitter