Mustangs Win! Play for National Championship Tomorrow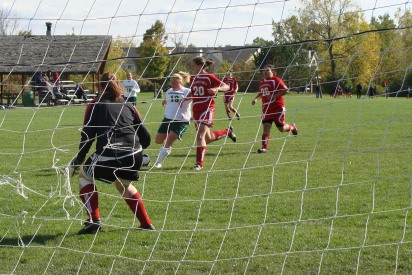 BURLINGTON, VT-The Mustangs win again! Nicole Mabee's strike 28 seconds into the game leads the Mustangs to the 1-0 decision. Mustangs are set to play #8 St. Mary's of the Woods tomorrow at 2pm for the USCAA National Championship. 
…no, you're not dreaming! The Mustangs fearless freshman win again. Only 90 minutes stand between the Mustangs and a national championship tomorrow. Janina Velasco set up Mabee's early strike took the wind of out #2 seed Penn College's sails early on in the semi-final contest. That goal was all that All-Americans Jessie Niemi and Shana DeVoe needed to keep the Mustangs moving on to the championship game.
Team captain Ashley Inglsbee played with great heart. She continually pressured the Penn defense and kept the attack on the opponents side much of the contest. Fellow forward Marguerite Cook played her best game since injuring her foot a few weeks back as she slipped inside the opponents zone early and often.
The Bishop Foley duo of Sarah Kator and Amber Williamson controlled the middle and nearly scored a goal each. First, Williamson shot a rocket that nailed the right post. A little while later Kator put her left foot to the ball for what everyone thought was a goal. However, the ball trickled off to the right side of the net keeping the game at 1-nill.
Penn's best chance came with only 7 minutes remaining on a corner kick. The play was quickly nullifed by the Mustangs strong defense to secure the 1-0 win and send the 'Stangs to the 2009 USCAA National Championship Game. Add us on facebook for live up-to-the-minute coverage of tomorrow's championship game. GO MUSTANGS!!