Gritty Effort By Women's Soccer Falls Short Against UNOH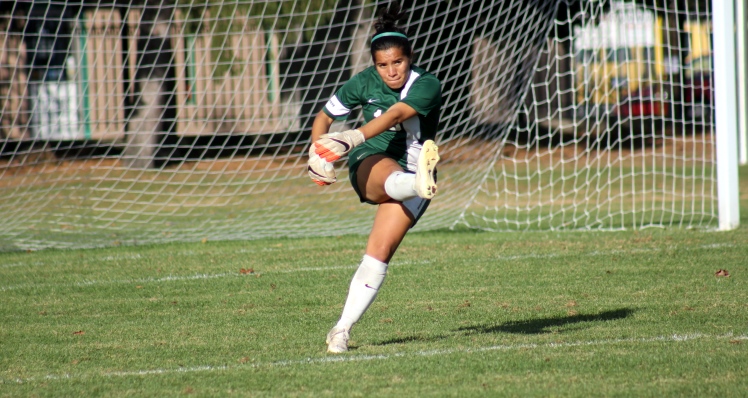 STAY CONNECTED: Facebook | Twitter | Instagram | YouTube
BE THE FIRST TO KNOW:Â Text & Email Alerts
DOWNLOAD OUR APPS:Â iOS (iPhone/iPad)Â |Â Android
DETROIT — Marygrove women's soccer faced a tall task, playing against one of the nation's best Wednesday (Oct. 22) when NAIA No. 6 University of Northwestern Ohio visited Detroit for a WHAC showdown. The Mustangs (2-13-1, 1-5-1 WHAC) put forth a commendable effort, but fell just short of a positive result as the visiting Racers (13-0-1, 7-0-0 WHAC) escaped the Motor City with a 2-0 conference win.
The Racers – a team that lasted yielded a goal in a 4-3 win on Aug. 29 – entered Wednesday's WHAC tilt as one of two squads across the NAIA landscape without a loss.
The Mustangs packed it in defensively in the first half, holding the high-octane Racers scoreless for 28 minutes. A defensive miscue in the box allowed the Racers' Alice Coyne to send home an easy goal from six yards out in the 29th minute, putting the visitors ahead 1-0. The unassisted goal would cap the first-half scoring, sending the teams into the halftime break a goal apart.
Holding onto a 1-0 lead, the Racers eventually distanced themselves from a gritty Mustangs squad, tallying a 75th minute goal to go ahead, 2-0. Pauline Quesson used a Klara Cahynova feed to send a ball into the upper 90 from 25 yards out, giving the Racers all they needed in the 2-0 decision.
Bianca Barron (West Jordan, Utah/Barton CC) played a stellar game in net, turning away six Racers shots on the afternoon. In all, the Racers amassed 21 shots, eight on target, to top the Mustangs in the hard-fought contest.
Despite being on the wrong end of a 2-0 final score, the Mustangs defense – and total team effort – was the storyline of Wednesday's game. One year removed from a lopsided loss against the Racers, the Mustangs set anchor and played a determined 90 minutes of soccer to keep pace in the WHAC playoff race.
With Indiana Tech and Lawrence Tech dropping their contests Wednesday, the Mustangs remained in the eighth and final playoff spot by one point.
The Mustangs will remain at home to host NAIA No. 17 Siena Heights Saturday (Oct. 25) at 12:30 p.m. The Mustang Sports Network will cover the game with a live video and stats stream beginning at 12:20 p.m. on marygrovemustangs.com/live.
WOMEN'S SOCCER CONTACT: Tim Johnston | 313-927-1419 | [email protected] /* */ | @tjohnston56
MARYGROVE BROADCASTS: Mustang Sports Network | Twitter
WOMEN'S SOCCER:Â Twitter