No. 20 Siena Heights Defeats Women's Soccer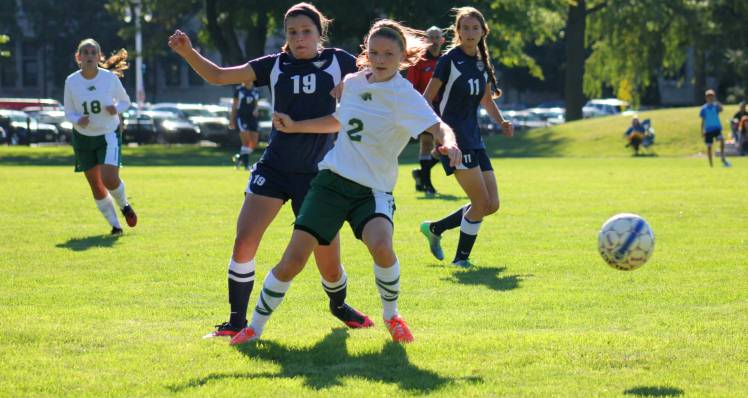 STAY CONNECTED: Facebook | Twitter | Instagram | YouTube
BE THE FIRST TO KNOW:Â Text & Email Alerts
DOWNLOAD OUR APPS:Â iOS (iPhone/iPad)Â |Â Android
DETROIT – First-year head coach Mario Scicluna and the Marygrove women's soccer team played their final home game of the 2014 campaign Saturday (Oct. 25) when NAIA No. 20 Siena Heights visited Detroit for a matinee matchup. The Mustangs (2-14-1, 1-6-1 WHAC), playing without key starters, were outdone by a fast and furious attack by the visitors as the Saints won running away, 7-0.
For the Mustangs, seniors Kamry Miller (New Boston, Mich./Michigan-Dearborn), Emily Sauter (Trenton, Mich./Trenton High School), Kaitlyn Vigna (China Twp., Mich./Marine City High School) and Cheyenne York (Taylor, Mich./Truman High School) played their final game on Marygrove's pitch, capping stellar careers while donning the Marygrove Green & Gold.
York led the Mustangs offensively by sending in the team's only two shots on goal, while Sara Ruch (Oxford, Mich./Oxford High School) and Vigna each added a shot apiece.
The Saints found the back of the net seven times with seven different players tallying goals. Mikayla Ferer and Lynn Hendricks paced the Saints attack with three points each.
Marygrove keeper Bianca Barron (West Jordan, Utah/Barton CC) was under fire all day, stopping 19 of the Saints' 26 shots on goal. Barron's 19-save day was good enough to meet the Mustangs' record for saves in a game, tying Shana DeVoe and Rachael Gilmore's efforts on Oct 31, 2009 and Oct 12, 2013, respectively.
The Mustangs will play their regular season finale Saturday (Nov. 1) when they visit Aquinas for a 12:30 p.m. kick. Scicluna and the Mustangs will enter Saturday's conference tilt facing a must-win situation after Indiana Tech leaped ahead in the WHAC standings by two points by earning a 1-0 victory over Concordia. 
WOMEN'S SOCCER CONTACT: Tim Johnston | 313-927-1419 | [email protected] /* */ | @tjohnston56
MARYGROVE BROADCASTS: Mustang Sports Network | Twitter
WOMEN'S SOCCER:Â Twitter