Women's Soccer Ends 2014 Season at Aquinas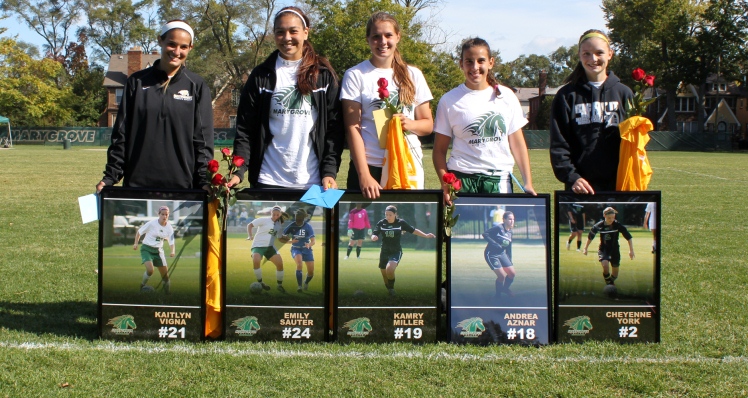 STAY CONNECTED: Facebook | Twitter | Instagram | YouTube
BE THE FIRST TO KNOW:Â Text & Email Alerts
DOWNLOAD OUR APPS:Â iOS (iPhone/iPad)Â |Â Android
GRAND RAPIDS, Mich. – The 2014 edition of Marygrove women's soccer ended Saturday (Nov. 1) with a 5-1 road defeat at the hands of WHAC counterpart Aquinas College. The Mustangs (2-15-1, 1-7-1 WHAC) went ahead early behind a second-minute goal from Cheyenne York (Taylor, Mich./Truman High School), but could not keep pace with a strong Saints squad to drop the regular season finale by a four-goal margin.
York, the program's all-time leader in assists, goals and points, sent in a goal in the 2nd minute of the contest after fellow senior Kamry Miller (New Boston, Mich./Michigan-Dearborn) played a ball in for the assist. The early tally had the Mustangs in position to continue their season, potentially qualifying for the WHAC playoffs with a win. The Saints (11-2-5, 5-1-3 WHAC) would have other ideas, scoring twice in the first half to take a 2-1 lead into the halftime break.
In the second half, the Saints added on three more goals, ensuring the Mustangs season would come to a close with a loss in Grand Rapids.
York ends her illustrious Marygrove career with 24 goals and 11 assists for 59 career points – all school records.
With the season-ending setback, the Mustangs' seniors – Andrea Aznar, Kamry Miller, Emily Sauter, Kaitlyn Vigna and Cheyenne York – played their final game at the collegiate level.
     
WOMEN'S SOCCER CONTACT: Tim Johnston | 313-927-1419 | [email protected] /* */ | @tjohnston56
MARYGROVE BROADCASTS: Mustang Sports Network | Twitter
WOMEN'S SOCCER:Â Twitter