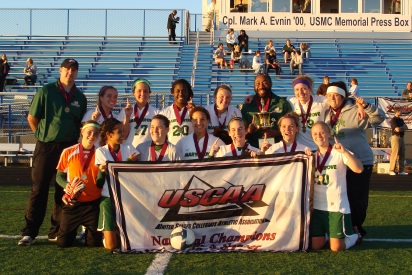 BURLINGTON, VT-Amazing! The first year Mustangs win the 2009 USCAA National Championship!! Janina Velasco poured in two goals to fuel a 3-0 championship game victory.
Who could have predicted this? A first year program with a roster of only 12 (11 freshmen) wins a national championship. Well, your wildest dreams just became a reality! The Mustangs took home the gold at the 2009 United States Collegiate Athletic Association Women's Soccer National Championship behind amazing play over the weekend.
Two wins (2-0 over Unity in the quarterfinals/1-0 over Penn in the semifinals) propelled the upstart Mustangs into the championship game on Sunday. The wins set up a showdown with #8 St. Marys of the Woods College (IN) for all the marbles.
Freshman midfielder Janina Velasco struck first in the 37th minute to put the Mustangs ahead, 1-0. The score would hold into halftime as the Mustangs defense stood strong. Nicole Mabee (Tournament MVP) hit a bender from 25 yards out to break the game wide open in the 65th minute. Jaci Habel set up Mabee with the assist on the play.
The Mustangs held a two-goal lead with 25 minutes to play and could feel the trophy in their hands already. Velasco struck again for good measure with 30 seconds to play to give the Mustangs a 3-0 victory and a national championship.
The win culminated a successful 10-win inaugural season for Coach Williams and the Mustangs.
Coach [Tony] Williams took the reigns of the new program and preached success from the start. Williams knew what it would take to sculpt a championship team at Marygrove.  He drew on the experience from his 1992 MHSAA State Champion season as a coach at Rochester Adams High School and his previous success at starting a collegiate soccer program.
The 2009 season of women's soccer will forever go down in history thanks to the efforts of 12 fantastic student-athletes and a coaching staff that preached confidence from the beginning. Congratulations to the 2009 Mustang Women's Soccer Team. USCAA National Champions!
USCAA All-Americans
Shana DeVoe – Freshman Goalkeeper
Jessie Niemi – Freshman Sweeper
USCAA All-American Honorable Mention
Sarah Kator – Freshman Midfielder
2009 USCAA National Championship All-Tournament Team
Ashley Inglsbee – Freshman Forward
Nicole Mabee – Freshman Midfielder
Janina Velasco – Freshman Forward
2009 USCAA National Championship Tournament MVP
Nicole Mabee – Freshman Midfielder