Late Goals Not Enough As Bluffton Tops Women's Soccer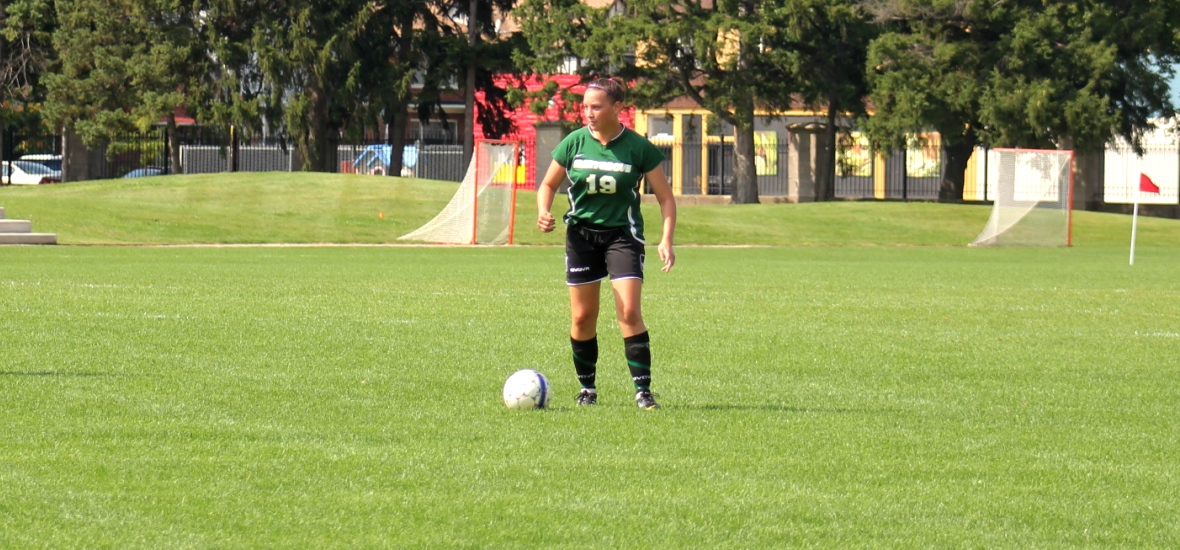 STAY CONNECTED: Facebook | Twitter | Instagram | YouTube
BE THE FIRST TO KNOW:Â Text & Email Alerts
DOWNLOAD OUR APPS:Â iOS (iPhone/iPad)Â |Â Android
DETROIT — A pair of late connections between Allison McDowell and Sara Ruch gave Marygrove women's soccer a bit of firepower late, but it was a balanced Bluffton (Ohio) attack that would prevail on Saturday (Sept. 5) as the visiting Beavers topped the Mustangs in a high-octane outing, 5-2.
The loss drops the Mustangs to 0-2-0 on the season while the Beavers move to an even 1-1-0 with the win.
Bluffton struck in the 15th minute as Beth Snyder's shot creeped through Henrietta Addo's hands to give the Beavers a 1-0 lead. The goal was one of three tallies in the first half for Bluffton and was part of a 12 shot (nine on goal) opening 45 minutes for the visitors.
The three-goal period for Bluffton was the difference at the break as the Mustangs trailed, 3-0, after 45 minutes of action.
In the second half, Bluffton tacked on two more goals to take a 5-0 lead before the Mustangs made a late push.
Senior defender Sara Ruch (Oxford, Mich./Oxford High School) fired a free-kick forward in the 84th minute, finding the feet of freshman midfielder Allison McDowell (Novi, Mich./Novi High School) in the process. McDowell would beat the Beavers' keeper to the right off of the well-placed Ruch ball over the top to help the Mustangs find the back of the net for the first time all game.
Ruch found McDowell again – this time in the 88th minute – to cut the Beaver lead to 5-2 late in the contest. McDowell received Ruch's ball forward, dribbling around the keeper to net her second goal of the game – also her second goal at the collegiate level.
Addo took the loss in net for the Mustangs despite stopping 10 shots on the afternoon. The Beavers outshot the Mustangs 23-6 overall and 15-5 on goal in the non-conference tilt.
The Mustangs will remain home and play within 24 hours as Cleary (Mich.) visits Detroit for a 4 p.m. kick Sunday (Sept. 6). The Mustang Sports Network will stream the game live on marygrovemustangs.com/live beginning at 3:45 p.m. 
WOMEN'S SOCCER CONTACT: Tim Johnston | [email protected]/* */ | @tjohnston56
MARYGROVE BROADCASTS: Mustang Sports Network | Twitter
FOLLOW THE TEAM 24/7:Â Twitter