Women's Soccer Inks Julia Busquaert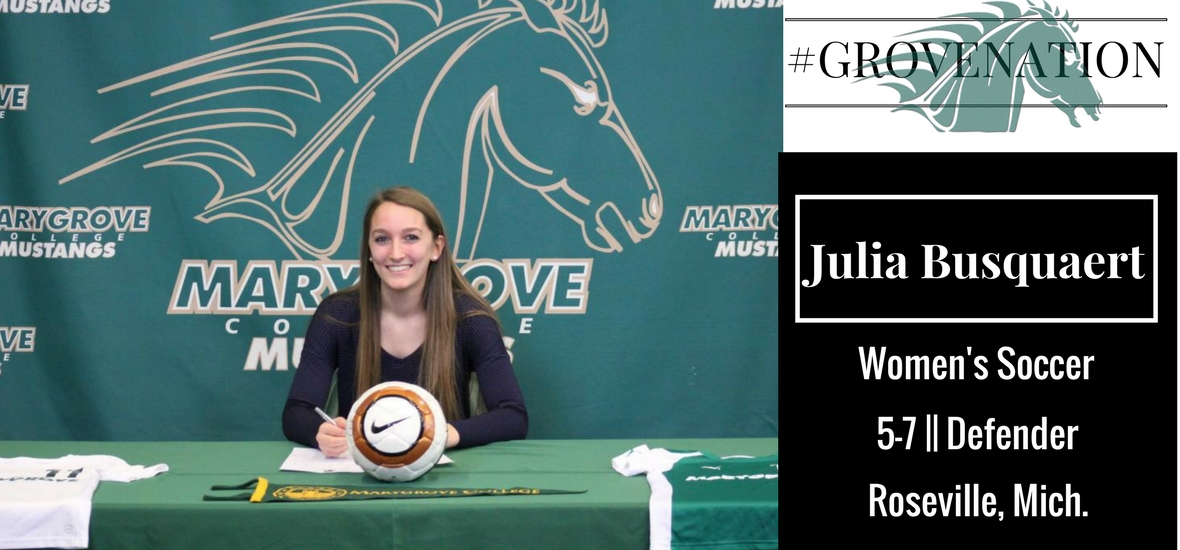 DETROIT, Mich. – Women's Soccer head coach Worteh Sampson has announced Julia Busquaert to the 2017-18 incoming recruiting class. Busquaert signed her Letter-of-Intent to play for Marygrove College next fall.
Julia Busquaert is a 5-foot-7 defender from Roseville, MI. She currently attends Adrian College (Mich.) as a student and will transfer to Marygrove this fall. Busquaert previously played three years of varsity soccer at Lakeview High School. Busquaert played travel soccer with the SCS Select Spitfires based in St. Clair Shores, Mich.
The following is a list of Julia's accolades: All-District (2014-2016), Macomb Area All-Academic Team (2014-2016), Lakeview High School Defensive Player of the Year (2014 & 2016), Lakeview High School Player of the Year (2015), Sportsmanship Award (2015), SCS Spitfire Defensive Player of the Year (2011, 2012, 2014, 2015)
Julia said in her interview, "I want to thank my parents and my sister who have been with me through everything, including travel ball, that's not easy. Also, my club soccer coach Scott Perez.".
Coach Sampson said about Julia Busquaert, "I am very excited that Juli decided to transfer here for the fall. She is an excellent defender. She can play anywhere in the backline and her versatility will be a huge addition to our squad.".
The women's soccer team will open up their 2017-18 season at home against Goshen College. Kick-off is set for 5:00 PM!