Men's Soccer Drops WHAC Quarterfinal to Aquinas, 2-0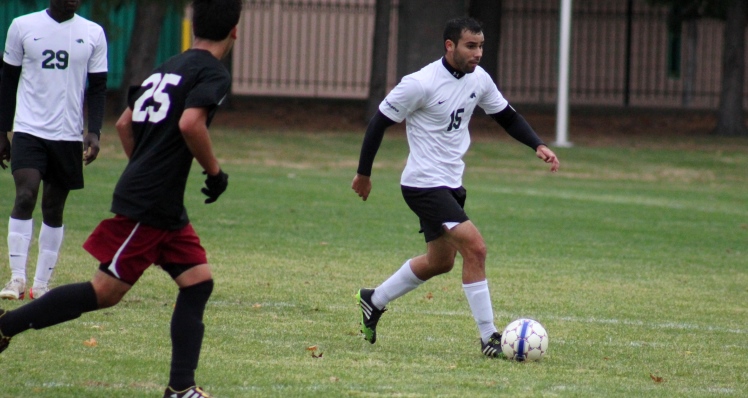 STAY CONNECTED: Facebook | Twitter | Instagram | YouTube
BE THE FIRST TO KNOW:Â Text & Email Alerts
DOWNLOAD OUR FREE APPS:Â iOS (iPhone/iPad)Â |Â Android
DETROIT — The first home playoff game in Marygrove athletics history was held Saturday (Nov. 8) in front of a crowd who braved chilling temperatures to watch the WHAC quarterfinal contest on the Mustangs' Detroit campus. The historic game – pitting the fourth-seeded Mustangs against the fifth-seed Aquinas Saints – was spoiled by the visitors as the Saints (11-7-1) tallied a pair of second half goals to win the conference quarterfinal game by a 2-0 final score.
Owning the first half in nearly every statistical category, the Mustangs (7-11-1) pinned the Saints in to the tune of a 9-0 advantage in corner kicks. The corner kicks presented a bevy of chances for the Mustangs, none of which produced a scoring strike as the teams battled to a scoreless first half.
The Saints struck first in the second half, tallying a 56th minute goal to move ahead 1-0. The Mustangs would attempt to notch the equalizer, but were unlucky in their pursuit as the ball refused to work its way past the Saints keeper all afternoon.
A 79th minute goal by the visitors would be all the Saints needed, winning 2-0 to move on to Tuesday's (Oct. 11) WHAC semifinal round.
The Mustangs outshot the Saints 14-5, including a 6-2 advantage on target, in the season-ending setback. Freshman Andriy Pelekh (Lviv, Ukraine/Salem High School) led the Mustangs offensively with three shots (two on goal). Alex Cabildo (Westland, Mich./Schoolcraft College), the Mustangs lone senior, played his final game at the collegiate level in the hard-fought quarterfinal round contest.
For the Mustangs, the loss to Aquinas ends a historic campaign that produced the program's third trip to the WHAC postseason in as many seasons.
MEN'S SOCCER CONTACT: Tim Johnston | [email protected] /* */ | @tjohnston56
MARYGROVE BROADCASTS: Mustang Sports Network | Twitter
MEN'S SOCCER:Â Twitter