Heartbreaker: Mustangs Drop 3-2 OT Decision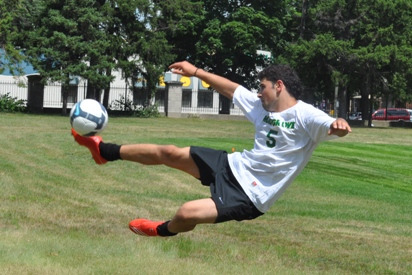 DETROIT, Mich.-The Mustangs played host the #7 ranked Andrews University Cardinals on Tuesday. The Cardinals defeated the Mustangs 4-2 at Andrews University earlier this season.
What a difference 10 days can make. The Mustangs were defeated by a two goal margin on the road earlier this month at the hands of an athletic Cardinal squad. However, the Mustangs learned from their mistakes made in the game 10 days prior and looked forward to a different outcome in front of the home crowd.
Jordan Berry got the Mustangs started once again with a laser that shot past the Cardinals goalie for a 1-0 advantage. The goal scored at the 12-minute mark would be Berry's seventh of the season. Jordan Largent was credited with the assist to Berry. The highly-ranked Cardinals struck back quickly with a goal at the 18-minute mark to even the score (1-1). The 1-1 tie would carry over to halftime as the two teams plotted to take the edge in the second half.
The Mustangs came out strong in the second and finally put one in the back of the net after numerous attempts. Hussein Seklawi scored (Chris Gibbs assist) with 23 minutes to play to put the Mustangs up 2-1. However, the pesky Cardinals chipped away at the Mustangs and snuck a last minute goal past Mustang goaltender Malcolm Brinker to even the score once again. The score remained tied as the teams prepared to do battle in the overtime session.
Overtime began the same as the first two periods for the Mustangs as they continued to fire shot after shot. Unfortunately, a Cardinals forward slipped past the defense for the game-winning goal with only (:02) seconds to play in the first overtime period. The heartbreaking 3-2 loss drops the youthful Mustangs to 2-8 on the season.
Freshman goalkeeper Malcolm Brinker kept the Mustangs in the game with another impressive outing. Brinker tallied 9 saves in the closely contested affair.
The Mustangs will work on little rest when they host Rochester College tomorrow (Wednesday) at 4pm. The Warriors beat the Mustangs 2-0 earlier this season at Ultimate Soccer Arena in Pontiac. Catch all the action at Pebble Creek Park in Southfield as the Mustangs look to even the season series at one game each.