Men's Basketball Drops WHAC Tilt to UNOH, 86-64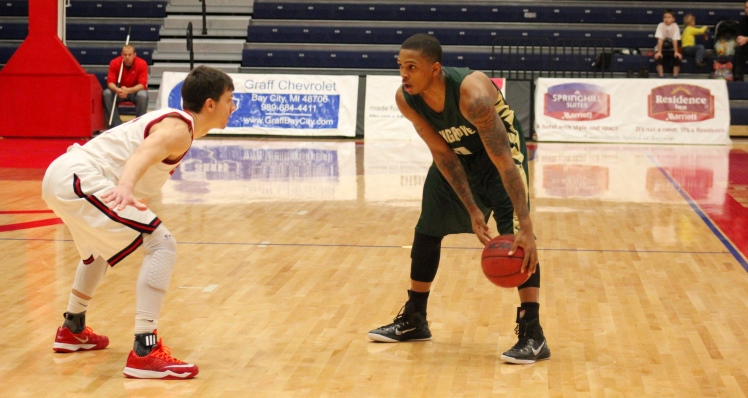 STAY CONNECTED: Facebook | Twitter | Instagram | YouTube
BE THE FIRST TO KNOW:Â Text & Email Alerts
DOWNLOAD OUR FREE APPS: iOS (iPhone/iPad) | Android   DETROIT — The skid for Marygrove men's basketball reached 12 games Wednesday (Feb. 4) with an 86-64 home loss to WHAC foe and NAIA Division II No. 21 University of Northwestern Ohio inside Detroit's Northwest Activities Center. After going 9-1 in January, the Racers kick-started the month of February with a victory to move to 19-6 overall and 14-3 in WHAC action. The loss drops the Mustangs to 3-22 on the season and 1-16 in conference play. 
The Racers led wire-to-wire, feeding off of the early energy from Lawrence Jackson. The sophomore wing helped the Racers jump out to a commanding 47-17 lead over the Mustangs with 3:22 remaining on the first-half clock. Jackson tallied 16 of the Racers first 47 points, scoring one point less than the Mustangs 16-plus minutes into the contest.
Jackson and the Racers continued to roll from there in the first half, taking a 52-23 lead into the halftime break. Jackson's 16 led all scorers in the first half, while the Mustangs' Diante Taylor (Battle Creek, Mich./Central High School) chipped in with eight points to pace the Green and Gold's opening-half effort.
The Racers' size created matchup issues for the Mustangs early and often as the visitors outrebound the Mustangs 30-11 in the first half. The Green and Gold attempted to climb back, but the Racers' length proved to be too much en route to holding the Mustangs to 7-of-30 shooting from the floor in the first half.
The Mustangs fought hard in the second stanza, but could not overcome the first-half deficit to go on to lose by the 86-64 final tally.
Jackson and the Racers controlled the post, leading to plus-18 margin in points in the paint over the Mustangs.
Taylor led the Mustangs with a game-high 18 points and added five rebounds and four steals to continue his well-rounded play as of late. Taylor was followed by Darryll Dixon (Flint, Mich./Hamady High School) with 17 points and five rebounds. Elijah Ingram (Detroit, Mich./Consortium High School) chimed in with 10 points in the loss for head coach Craig Covington and the Mustangs.
Jackson and Aaron Cross each poured in 16 points to lead the Racers to the road conference victory.
The Mustangs visit Adrian, Mich. Saturday (Feb. 7) for a 7:30 p.m. tip-off with Siena Heights.
 
MEN'S BASKETBALL CONTACT: Tim Johnston | [email protected] /* */ | @tjohnston56
MARYGROVE BROADCASTS: Mustang Sports Network | Twitter
SOCIAL MEDIA:Â Men's Basketball on Twitter