Mustangs Continue Solid Offseason, Sign O'Bryant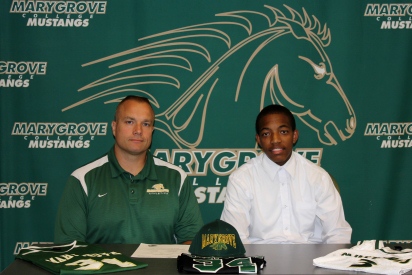 DETROIT, Mich. — On Tuesday (07/10), the head coach Dave Sichterman announced the signing of local standout Jermaine O'Bryant to a 2012-13 Letter of Intent.
O'Bryant, a 6′ point guard, will head to Marygrove College after enjoying a stellar career as a member of the Madision Heights Madison squad for the past two years. Last season, O'Bryant helped lead the Madison squad to a Macomb Area Conference (Blue) Division Championship. The defensive-minded guard stymied opponents game-after-game to help his team achieve their goals. In 10th grade, O'Bryant's strong play landed him a roster spot on the heralded Team Detroit AAU squad.
Coach Sichterman on O'Bryant: Jermaine is a tough young man that plays with a plenty of intensity. His willingness to play hard on the defensive end will help our program from day one. Jermaine, along with the rest of the 2012 recruiting class, have a lot of hard work ahead of them as we look to achieve our goals over the next four years. I look forward to coaching Jermaine and the rest of the recruiting class soon.