Mustangs Add Suber to 2009 Class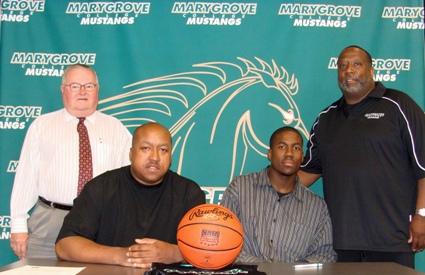 DETROIT, MI–Men's basketball added another student-athlete to an increasingly impressive 2009 class. Oak Park's Jeff Suber signed his letter of intent inside the new Marygrove College Wellness Center on Tuesday. The former Knight will hit the court as a Mustang this fall.
Suber, a versatile 6'1″ guard, enjoyed a successful career during his playing days at Oak Park. Highlighting a brilliant career, Suber helped Oak Park to League and District Championships during the 2007-08 campaign. Showcasing his all-around play, he compiled an impressive average of eight points and seven rebounds per game during his senior season.
Coach Donahue on Suber: Jeff is a solid all-around player. He will fit well into our system because he is a natural athlete. Above all else, Jeff comes to Marygrove as a successful student. His work ethic on and off the court will be a welcome addition to our program.