Crockett Competes at the WHAC Indoor Championships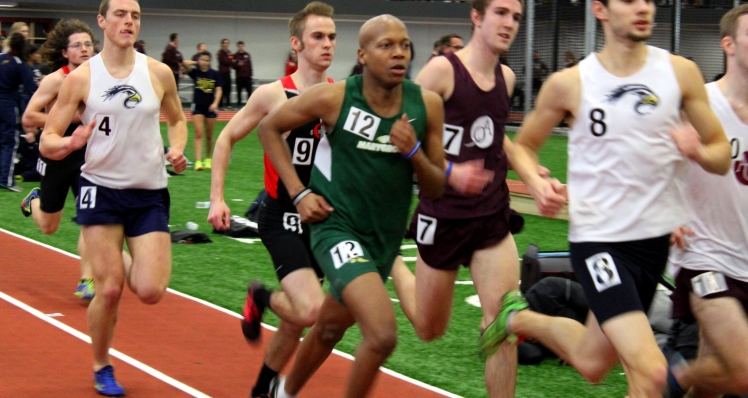 STAY CONNECTED: Facebook | Twitter | Instagram | YouTube
BE THE FIRST TO KNOW:Â Text & Email Alerts
DOWNLOAD OUR FREE APPS:Â iOS (iPhone/iPad)Â |Â Android
GRAND RAPIDS, Mich. — Senior distance runner Robert Crockett closed out his collegiate indoor career by participating in the mile event at Saturday's (Feb. 21) Wolverine-Hoosier Athletic Conference Indoor Championships, hosted at the new Alksnis Athletic & Recreation Building on the campus of Aquinas College.
Crockett, running for the first time inside the new facility in Grand Rapids, posted a time of 5:21.77 in the conference championship event. The time placed Crockett 11th overall in the loaded field.
Running with a nagging leg injury, Crockett posted a time well above his mark set at least year's WHAC Indoor Championships held at Trine University. Last year, Crockett went sub-five for the first time all season to post a championship meet time of 4:56.33. Crockett's 2015 season best was three weeks ago at the SVSU Jet's Pizza Invitational where he posted a time of 5:01.19.
The senior will now turn his attention toward outdoor season – his final campaign as a collegiate student-athlete.
CHAMPION OF CHARACTER
At the conclusion of the championships, Crockett was tabbed as Marygrove's representative on the 2015 WHAC Indoor Track & Field Champions of Character Team. Crockett was honored, along with a member from each participating institution, for being a sound representative of the NAIA's Five Core Values of Integrity, Respect, Responsibility, Servant Leadership, and Sportsmanship. Saturday's Champions of Character Team honor was Crockett's third after the then-sophomore won a pair of character awards during the 2012-13 campaign.