WHAC Releases MBB Awards, Dixon Honorable Mention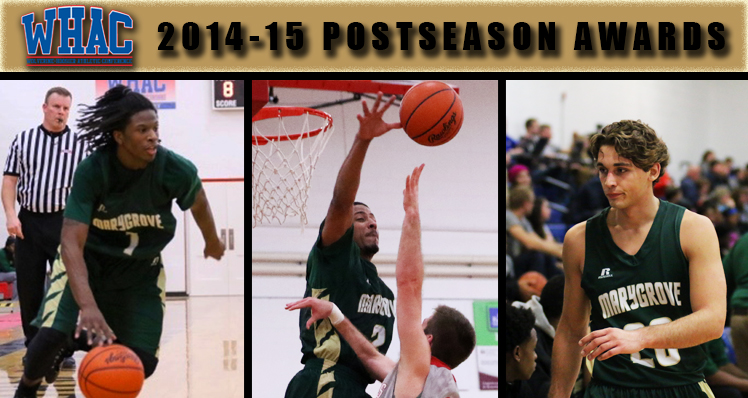 STAY CONNECTED: Facebook | Twitter | Instagram | YouTube
BE THE FIRST TO KNOW:Â Text & Email Alerts
DOWNLOAD OUR FREE APPS:Â iOS (iPhone/iPad)Â |Â Android
DETROIT — The 2014-15 men's basketball award teams were announced by the Wolverine-Hoosier Athletic Conference (WHAC) Thursday (Feb. 26), honoring the conference's top student-athletes for their performance on-and-off the court. This year, three Marygrove College student-athletes were selected to various teams for their performance on the field, in the classroom and for their leadership in the community.
The WHAC's announcement comes hours prior to the start of postseason play Thursday when eight of the conference's top teams will tip-off the "second season" around the league.
HONORABLE MENTION ALL-CONFERENCE
Darryll Dixon (Flint, Mich./Hamady High School) took home WHAC All-Conference Honorable Mention honors after a senior campaign that saw the combo guard finish 17th overall in NAIA Division II in points per game with a stellar 20.7 average per night. The 20-point average per game was good for third in the WHAC and was as high as first overall in the league midway through the season – a total that surpasses eight members on the WHAC's First Team.
Dixon will end his collegiate career as one of the better players to ever don the Marygrove Green and Gold basketball uniform. The 6-1 combo guard finished his heralded career with a game-high 29-point showing Saturday against No. 4 Davenport, coming up a mere 31 points shy of the Mustangs all-time scoring record in just three-and-a-half years of play (1,679 career points). Dixon's 20.7 points per game average this year is the highest in a single-season since former Mustang great Dennis Foster posted a 28.5 average 10 years ago.
Last year, Dixon poured in a career-high 40 points at Siena Heights on Feb. 12, 2014 and followed that performance with a 34-point effort this season in Chicago on Nov. 28, 2014. A prolific scorer, Dixon will also end his career in the top-three at Marygrove in career assists.
ACADEMIC ALL-CONFERENCE
Junior forward Joe Zannetti (Warren, Mich./Woods Tower High School), a 2013-14 United States Collegiate Athletic Association Academic All-American, earned a spot on the 2015 WHAC All-Academic Team after exceeding the minimum requirements of a 3.25 or above cumulative GPA and a junior or above in academic standing. The junior appeared in 25 of the team's 30 games this season.
CHAMPIONS OF CHARACTER TEAM
JuJuan Armstrong (Detroit, Mich./UM-Dearborn), a senior forward, capped off a stellar two-year career as a Mustang by being named the Mustangs representative on the WHAC's Champions of Character Team. Armstrong was nominated by head coach Craig Covington after the senior earned the right as the Mustang who best exemplified the NAIA's Five Core Values of Integrity, Respect, Responsibility, Servant Leadership, and Sportsmanship.
COACH OF CHARACTER
Covington earned his second of two Coach of Character honors with the WHAC's postseason men's basketball release. The second-year head coach was named the conference's Coach of Character one day after earning the same honor for his work on the women's basketball sidelines.
MEN'S BASKETBALL CONTACT: Tim Johnston | [email protected] /* */ | @tjohnston56
MARYGROVE BROADCASTS: Mustang Sports Network | Twitter
SOCIAL MEDIA:Â Men's Basketball on Twitter