McKinney Leads Mustangs to First 2009-10 Win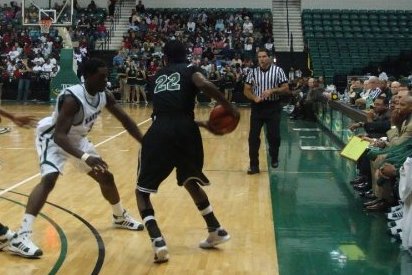 ADRIAN, Mich.-The Mustangs upended NCAA Division III Mt. Union (67-64) in the consolation game of the John Dawson Memorial Tournament at Adrian College. The win comes one day after the Mustangs suffered their fifth straight defeat to begin the season
A blazing start, led by junior forward Justin McKinney, propelled the Mustangs to an 11-point lead with 12:53 remaining in the first half. The Purple Raiders (Mt. Union) quickly stormed back with an offensive onslaught that put them up by two (33-31) at the half.
McKinney (Mumford High) paced the Mustangs with 13 first half points.
The Mustangs came out swinging in the second frame and battled their way to the first win of the 2009-10 campaign. The victory couldn't have arrived any sooner. The tough 2009-10 schedule doesn't get any easier as the Mustangs travel to Wayne State University on Tuesday. Overall, the Mustangs are 0-4 against WSU.
McKinney was named to the John Dawson Memorial All-Tournament Team after he led the way with 17 points in the win over Mt. Union. He was followed by Eric Johnson with 12 and Marcus Hopkins with 11. Junior swingman Keontay Glazier busted out of his season-opening slump by pouring in 10 points for the Mustangs. Glazier also added eight rebounds and four steals in the thrilling victory.