NAIA Division I No. 18 Campbellsville Pulls Away, Defeats Men's Basketball 105-77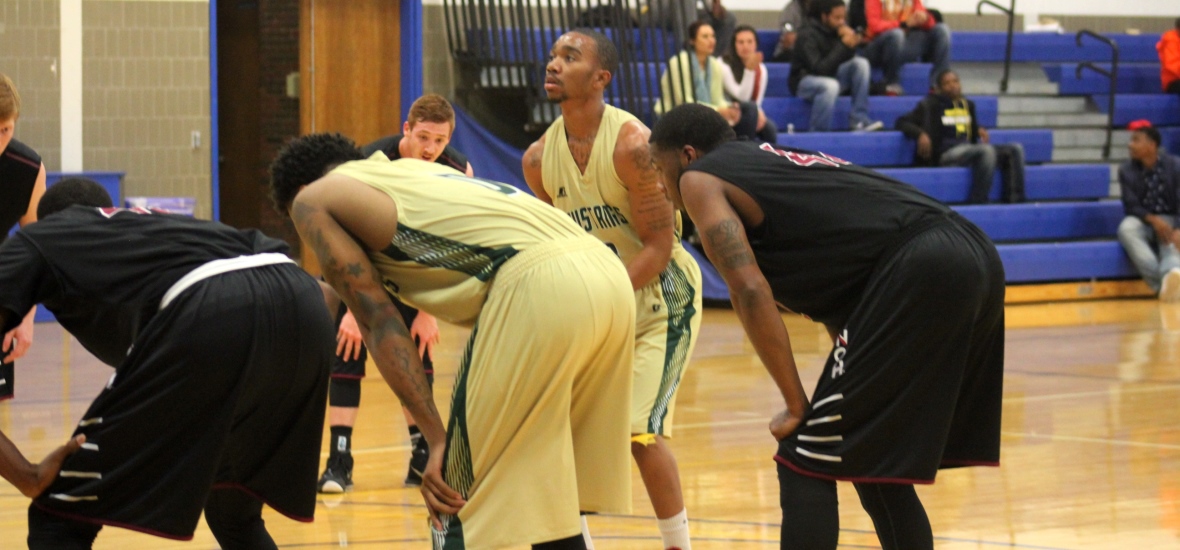 STAY CONNECTED: Facebook | Twitter | Instagram | YouTube
BE THE FIRST TO KNOW:Â Text & Email Alerts
DOWNLOAD OUR APPS:Â iOS (iPhone/iPad)Â |Â Android
COLUMBIA, Ky. — Day two of the Lindsey Wilson College Thanksgiving Classic went in favor of Campbellsville University as the Tigers took a 105-77 decision over Marygrove men's basketball in a neutral-court battle in Columbia, Ky. on Saturday (Nov. 28). Campbellsville, the 18th-ranked team in NAIA Division I, moved to 7-2 on the season while the Mustangs dropped to 1-10 on the 2015-16 campaign.
The Tigers took a 49-38 lead at the half, but not before the opening stanza was witness to six lead changes and a pair of ties. The Mustangs took their biggest lead of the game at the 10:24 mark of the opening half – a three-point edge – when senior guard Diante Taylor (Battle Creek, Mich./Central High School) drove the lane for two of his team-high 12 points at the break.
Taylor and the Mustangs battled with the NAIA Division I power in the second half before turnovers plagued the Green and Gold down the stretch. The Tigers committed 10 turnovers compared to the Mustangs 21 giveaways, resulting in a 28-8 edge in points off turnovers. The 20-point swing would prove to be the deciding factor in the game for a Mustangs team that averages 2.2 more turnovers per game than the opposition on the season.
Taylor led the Mustangs with a team-best 22 points on 9-of-19 shooting, adding six rebounds and a steal in 37 minutes of action. Sirafino Davis (Flint, Mich./Tiffin University) enjoyed one of his best offensive performances in a Mustang uniform with 12 points (5-of-7 shooting) to go along with five boards and three blocks. The three-swat game continues Davis' run at the top of all NAIA Division II athletes in total blocks.
Sophomore guard Tyler Sykes (Sterling Heights, Mich./Stevenson High School) rounded out the Mustangs' double-digit scorers with 10 points. Sykes led the team in rebounds with eight (one offensive, seven defensive) to accompany a pair of assists. Fellow sophomore guard Kenneth Miller (Flint, Mich./Grand Blanc High School) continued his recent stretch of distributing the ball with a game-high seven assists in 28 minutes.
DeVontay Green (Pontiac, Mich./Waterford Mott High School) added seven points as he continues to rehab from an early-season injury.
Dii'jo Allen-Jordan led the Tigers with a game-high 23 points on 8-of-12 shooting from the floor and a 7-of-10 effort from the free throw line. Allen-Jordan also reeled in a game-best nine rebounds in 25 minutes.
The Mustangs return to action Wednesday (Dec. 2) at 8 p.m. with a WHAC tilt at Lawrence Tech. 
MEN'S BASKETBALL CONTACT: Tim Johnston | [email protected]/* */ | @tjohnston56
MARYGROVE BROADCASTS:Â The Mustang Sports Network (MSN)Â |Â MSN Twitter
MEN'S BASKETBALL:Â Twitter