Weaver Named USCAA Honorable Mention All-American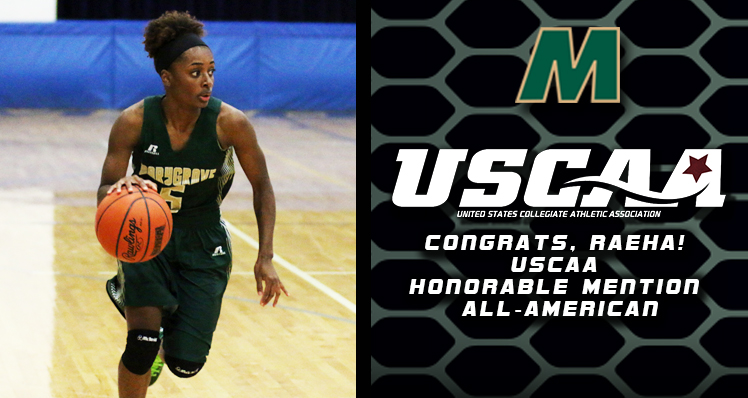 STAY CONNECTED: Facebook | Twitter | Instagram | YouTube
BE THE FIRST TO KNOW:Â Text & Email Alerts
DOWNLOAD OUR FREE APPS:Â iOS (iPhone/iPad)Â |Â Android
DETROIT — The United States Collegiate Athletic Association (USCAA) office announced the 2014-2015 women's basketball award teams and Marygrove College had two student-athletes honored led by All-American Honorable Mention selection Raeha Weaver following a vote of the association's head coaches. The announcement, coming at the 2014-15 National Championship, was recently released on the association's web site, theuscaa.com.
Theresa Dray (Davison, Mich./Davison High School) was also honored by working her way to a nod on the USCAA's Academic All-American Team for her diligence in the classroom.
Weaver (Battle Creek, Mich./Kellogg CC) led the Mustangs to the program's first conference wins this season by averaging a team-best 13.5 points per game while harassing opponents to the tune of 63 steals on the season. The talented guard's 2.1 steals per game averaged vaulted her into 24th place overall in the USCAA and 49th in the National Association of Intercollegiate Athletics.
This season, Weaver amassed 405 points to lift her two-year career total at Marygrove to 617. The two-year starter also amassed 173 rebounds, 96 steals and 92 steals during her brief two-year stint in the Green and Gold.
Dray, a sophomore center, averaged 2.3 points and 4.5 rebounds per game for the Mustangs after appearing and starting in all 30 games this season. The 4.5 rebound average was good for third on the team as the tough center helped the Mustangs play their way to a pair of conference wins this season.
WOMEN'S BASKETBALL CONTACT: Tim Johnston |Â @tjohnston56
MARYGROVE BROADCASTS: Mustang Sports Network | Twitter
SOCIAL MEDIA:Â Women's Basketball on Twitter