Baseball's WHAC Journey Begins Wednesday at 7 p.m.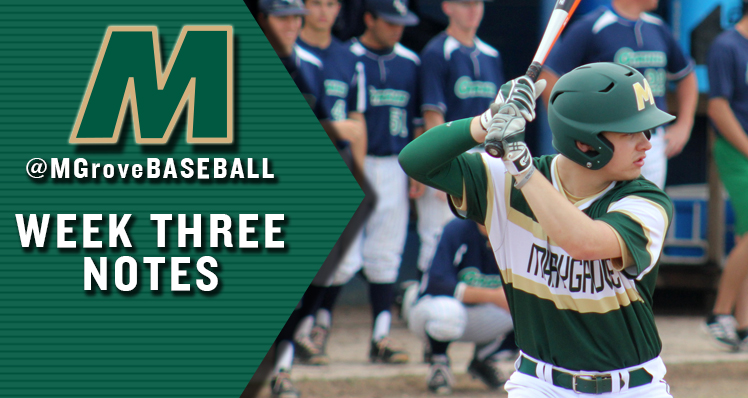 COMPLETE WEEK THREE NOTES (PDF)
WEDNESDAY, MARCH 18
Marygrove (1-10, 0-0 WHAC) vs. Concordia-Ann Arbor (5-13, 0-0 WHAC)
Time: 7 p.m. (doubleheader)
Location: Siena Heights Baseball Field – Adrian, Mich.
Coverage: Live Video | Live Stats (6:50 p.m.)
SATURDAY, MARCH 21
Marygrove (1-10, 0-0 WHAC) at Madonna (10-7, 0-0 WHAC)
Time: 1Â p.m. (doubleheader)
Location: Ilitch Ballpark – Livonia, Mich.
Coverage: Coverage to be determined
SUNDAY, MARCH 22
Marygrove (1-10, 0-0 WHAC) at Madonna (10-7, 0-0 WHAC)
Time: 1Â p.m. (doubleheader)
Location: Ilitch Ballpark – Livonia, Mich.
Coverage: Coverage to be determined
BY THE NUMBERS
14:Â Sophomore outfielder Raleigh Wilson (Harrison Twp., Mich./West Texas College) leads the Mustangs with 14 total bases through 11 games. The speedy sophomore also leads the team with four extra-base hits after rounding the bases for three doubles and a triple. Defensively, Wilson has played a nearly flawless centerfield to post a .955 fielding percentage.
13: A cast of 13 freshmen are on the inaugural Marygrove baseball roster, three short of the 16 brought in by the men's soccer team on the eve of their first campaign in 2009. Of the 13 freshmen on Kottke's inaugural roster, 11 hail from Michigan while two – Trey Blandford and Ryne Underwood – made the trip north from Fern Creek High School in Louisville, Ky.
5: Senior second baseman Chris Gittleman and sophomore shortstop Chase Younkin (Macomb, Mich./Culver-Stockton College) have combined to twist five (5) double plays through 11 games this season. In a rhythm up the middle as the beginning stages of the 6-4-3 put out, Gittleman and Younkin have just over half of the Mustangs' eight double plays turned so far this season.
OUR FIRST "HOME" GAME IS HERE!
Joining a slew of other northern teams playing their home games away from home, Marygrove baseball will play its inaugural "home" set approximately 72 miles away from their Detroit campus Wednesday (March 18). The Mustangs, 1-10 on the season, will begin WHAC play Wednesday evening against league foe Concordia-Ann Arbor (5-13) on the campus of Siena Heights University beginning at 6:50 p.m. on marygrovemustangs.com/live. 
PLAYING THE BEST IN THE NAIA
Head coach Ryan Kottke has been unwavering in his commitment to test the young Mustangs against some of the top teams the NAIA has to offer. The Mustangs recent four-game series with IU-Southeast, a team that could receive votes in the Top-25 this week, put a cap on a difficult non-conference slate that included games against No. 7 Northwood (Fla.) and No. 12 St. Thomas (Fla.).
THE "SECOND SEASON"
The "second season" or "real season", more commonly known as conference play, begins Wednesday (March 18) when the Mustangs host Concordia-Ann Arbor on the campus of Siena Heights at 7 p.m. The 36-game Wolverine-Hoosier Athletic Conference (WHAC) schedule features 16 home tilts in a season that is slated to wrap up May 4.
MUSTANG REWIND
It was a difficult weekend for the Mustangs offensively in Indiana March 14-15. Kottke and the Mustangs dropped all four games against IU-Southeast – one of the conference favorites in the KIAC – to fall to 1-10 on the young season. Freshman outfielder Mavrick Dube (Warren, Mich./Mott High School) displayed great plate discipline over the four-game set by drawing five walks, raising his on-base percentage to .400 in the process.
YOUNKIN COMES THROUGH
Leading the Mustangs in hits, runs and RBIs, sophomore indfielder Chase Younkin slapped a two-out, bases clearing double into left center in an otherwise quiet series offensively for the Green and Gold at IU-Southeast.
A LOOK AT CONCORDIA-ANN ARBOR
Led by first-year head coach and sports information director, Zach Johnston, the Concordia-Ann Arbor Cardinals put together a 5-13 non-conference campaign entering WHAC play this week. Johnston's Cardinals are led offensively by Evan Novack with a .357 average through 18 games, including a .410 on-base percentage and a .411 slugging percentage. Josh Miller leads all Cardinal starters with a 3.60 ERA through three starts.
A LOOK AT MADONNA
Greg Haeger returns for his 19th season as the skipper for Madonna baseball in 2015. Haeger's Crusaders are paced offensively by Taylor Grzelakowski, a sophomore outfielder who has posted a team-high tying 15 RBIs to  accompany a .386 batting average and a .526 slugging percentage. On the mound, Alex DeYounker owns a 4.00 ERA after posting his first collegiate no-hitter last week.
GITTLEMAN'S STRONG START
One of two seniors on the Mustangs' inaugural roster, Chris Gittleman (Windsor, Ontario/Trinity Christian College) continued to string together quality at bats during the Green and Gold's four-game set at IU-Southeast. Through 11 games this season, Gittleman is hitting .316 with six hits and three RBIs to go along with his team-high tying seven walks.
SOLID SERIES FOR CHUNG, EDWARDS
Freshman third baseman David Chung (Warren, Mich./Bishop Foley High School) and senior outfielder/pitcher James Edwards (Detroit, Mich./Shaw University) were two bright spots for the Mustangs last weekend in Indiana. Chung went 5-for-11 in Indiana, raising his batting average to .320 for his efforts. Playing in his first games of the season, Edwards enjoyed a 4-for-9 series to jump out to a .444 batting average.
EXTENDED COVERAGE ALL SEASON!
Join Jeremy Otto and Jimmy Stewart all season as they bring you Marygrove baseball live on the Mustang Sports Network at marygrovemustangs.com/live! Look for game  day previews, highlights and more as well!
TEASER: BROADCAST INTRO
STAY CONNECTED: Facebook | Twitter | Instagram | YouTube
BE THE FIRST TO KNOW:Â Text & Email Alerts
DOWNLOAD OUR APPS:Â iOS (iPhone/iPad)Â |Â Android
BASEBALL CONTACT: Tim Johnston | [email protected] /* */ | @tjohnston56
MARYGROVE BROADCASTS: Mustang Sports Network | Twitter
FOLLOW THE TEAM 24/7:Â Twitter