Baseball Visits Siena Heights, No. 25 UNOH This Week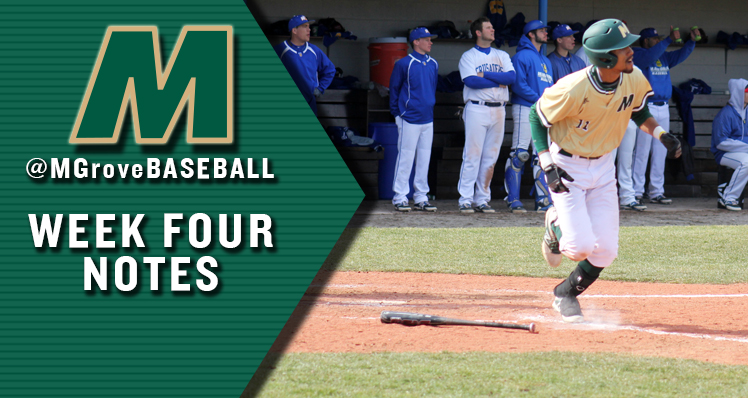 COMPLETE WEEK FOUR NOTES (PDF)
WEDNESDAY, MARCH 25
Marygrove (2-15, 1-5 WHAC) at Siena Heights (7-9, 3-3 WHAC)
Time: 2 p.m. (doubleheader)
Location: Siena Heights Baseball Field – Adrian, Mich.
Coverage: Live Audio on the Mustang Sports Network (1:50 p.m.)
SATURDAY, MARCH 28
Marygrove (2-15, 1-5Â WHAC) at No. 25 UNOH (18-6, 6-0Â WHAC)
Time: 1Â p.m. (doubleheader)
Location: Racer Baseball Field – Lima, Ohio
Coverage: Live Video (UNOH coverage — No Marygrove coverage)
SUNDAY, MARCH 29
Marygrove (2-15, 1-5Â WHAC) at No. 25 UNOH (18-6, 6-0Â WHAC)
Time: 1Â p.m. (doubleheader)
Location: Racer Baseball Field – Lima, Ohio
Coverage: Live Video (UNOH coverage — No Marygrove coverage)
BY THE NUMBERS
11:Â Freshman first baseman Josh Barnes (St. Clair, Mich./St. Clair High School) has been a workhorse at the plate for the Mustangs so far this season. Barnes, one of the team's offensive leaders in Florida, continued his stellar season last week by tallying two doubles and adding four more walks to his team-leading 11 free passes through 17 games.
13: A cast of 13 freshmen are on the inaugural Marygrove baseball roster, three short of the 16 brought in by the men's soccer team on the eve of their first campaign in 2009. Of the 13 freshmen on Kottke's inaugural roster, 11 hail from Michigan while two – Trey Blandford and Ryne Underwood – made the trip north from Fern Creek High School in Louisville, Ky.
3:Â Sophomores Raleigh Wilson (Harrison Twp., Mich./West Texas College) and Chase Younkin (Macomb, Mich./Culver-Stockton College) have combined for 34 total bases through 17 games for the Mustangs. Of the 34 bases, Wilson and Younkin are tied for the team lead with three (3) stolen bases each. Younkin is 3-for-3 on the season while Wilson checks in at 3-for-5.
RELIVE IT! HARTWICK WALKS OFF CUAA
Spanning two days and a total of six-and-a-half hours, the Mustangs doubleheader against Concordia-Ann Arbor last Wednesday (March 18) ended at 1:26 a.m. (March 19) when sophomore catcher Kyle Hartwick (Oxford, Mich./Rend Lake CC) sent a sharp single past the Cardinals' third baseman that scored Chase Younkin and James Edwards (Detroit, Mich./Shaw University) to lift the Green and Gold to a 2-1 victory in 10 innings. WATCH THE WALK-OFF HERE!
A TOUGH STRETCH OF WHAC GAMES
First-year head coach Ryan Kottke and the Mustangs are in the middle of a tough stretch of Wolverine-Hoosier Athletic Conference play. With their four-game set at Madonna, the Mustangs started a stretch of contests against the conference's four top teams that continues Wednesday (March 25) at Siena Heights and ends at home April 3 and 4 against No. 8 Davenport.
DUBE'S 12-PITCH AT BAT
With two men on and two outs in the first inning of Saturday's (March 21) opener, freshman Mavrick Dube drove home two runs to culminate a stellar 12-pitch at-bat. Dube (Warren, Mich./Mott High School) worked the Crusaders' starter, Todd Jones, to 11 pitches before driving his two-RBI single through the left side of the infield on pitch 12. Dube's hit led to a 3-0 advantage through one inning for the Mustangs, enough to chase Jones out of the game as the Crusaders turned to their bullpen early in game one.
UNDERWOOD CONTINUES TO WORK
Freshman righty Ryne Underwood (Louisville, Ky./Fern Creek High School) was brilliant on the mound Wednesday (March 18) against Concordia-Ann Arbor. Underwood did everything but get the win by shutting down the Cardinals, not allowing a run in a five-hit performance over six-and-two-thirds innings.
THE EDWARDS IMPACT
James Edwards has made an immediate impact for the Mustangs, turning in top pitching outings to go along with four RBIs and a .370 slugging percentage in nine games.
A LOOK AT SIENA HEIGHTS
John Kolasinski returns for year 12 at the helm of Siena Heights baseball, his 27th overall at the collegiate level, and has led the Saints to a 7-9 start overall and a 3-3 mark in conference play. Kolasinski and the Saints are balanced offensively with nine players hitting over .250 and seven with an on-base percentage of .333 or higher. Brent Vaccaro paces a strong stable of arms with a 1.74 ERA and 16 strikeouts in six appearances.
A LOOK AT NORTHWESTERN OHIO
Jose Cruz leads a cast of 11 Racers that are hitting .300 or better this season with an impressive .443 batting average through 24 games. Despite the high average, Cruz' 23 RBIs is second to Brandon Collins' team-leading 29, showcasing the depth of the Racers hitting to-date this season. On the mound, Brodie Mitchell leads the Racers with 35.1 innings pitched and 42 punch outs. After receiving the NAIA's No. 25 ranking as of the March 24 Coaches' Poll, the UNOH Racers will go down in history as the first Top-25 team the Mustangs will face in program history when the teams square off Saturday and Sunday in Ohio.
CHUNG STARTS TO HEAT UP
David Chung (Warren, Mich./Bishop Foley High School), a freshman third baseman and designated hitter, has enjoyed his limited time against fellow WHAC competition. In six conference games, Chung is hitting .313 with five hits, including a double against Madonna on March 21, to go along with a .375 slugging percentage and a .389 on-base percentage. In the  recent series at Madonna, Chung went 5-for-12 to raise his season average to .317 – a mark that includes only five strikeouts as the freshman continues to see the ball well.
BASEBALL VS. Â OTHER FIRST YR TEAMS
At 2-15, the Mustangs are on target to achieve similiar or better first-year status than any other Marygrove team outside of the year-one national champion women's soccer team. Now a perennial power in the WHAC, the Mustang men's soccer team finished their inaugural campaign 4-11 with no NAIA wins.
EXTENDED COVERAGE ALL SEASON!
Join Jeremy Otto and Jimmy Stewart all season as they bring you Marygrove baseball live on the Mustang Sports Network at marygrovemustangs.com/live!
STAY CONNECTED: Facebook | Twitter | Instagram | YouTube
BE THE FIRST TO KNOW:Â Text & Email Alerts
DOWNLOAD OUR APPS:Â iOS (iPhone/iPad)Â |Â Android
BASEBALL CONTACT: Tim Johnston | [email protected]/* */ | @tjohnston56
MARYGROVE BROADCASTS: Mustang Sports Network | Twitter
FOLLOW THE TEAM 24/7:Â Twitter