Warriors Top Mustangs, 79-59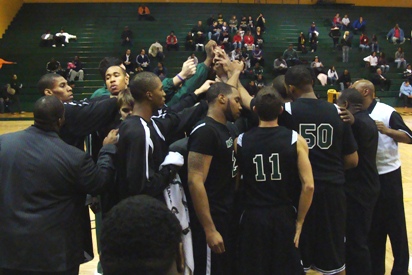 DETROIT, Mich.-On Tuesday, the Mustangs had the daunting task of facing a team that recently knocked off the #1 NCAA Division II team in the country. That team would be fellow Detroiter, Wayne State University. The Warriors from Wayne got off to a strong start to stave off the Mustangs, 79-59.
A 25-6 start over the first eight minutes propelled the host Warriors to the victory. However, the Mustangs showed the mental toughness they have been searching for by fighting back the rest of the way. The 'Stangs went toe-to-toe with the Warriors after facing a 19-point deficit with twelve minutes to play in the first half.
Junior forward Eric Johnson (Southfield Lathrup) had his best game of the young season by pouring in 17 points in the 79-59 defeat. Marcus HopkinsSouthfield) hit double-figures again with 11 points.
The only double-double of the night went to 2008-09 USCAA All-American, Justin McKinney. The former Mumford star corralled 11 rebounds and chipped in 10 points.
The loss drops the Mustangs to 1-6 on the season. The (1-6) record is deceiving due to the Mustangs tough early season schedule. Coach Donahue and the Mustangs will look to turn their fortunes around with a Saturday evening showdown against the Saints of Siena Heights University. Game time is 8pm Saturday at Detroit Jesuit High School. JV @ 6pm vs. Siena Heights.