Shootout at Stonehedge Up Next for Men's Golf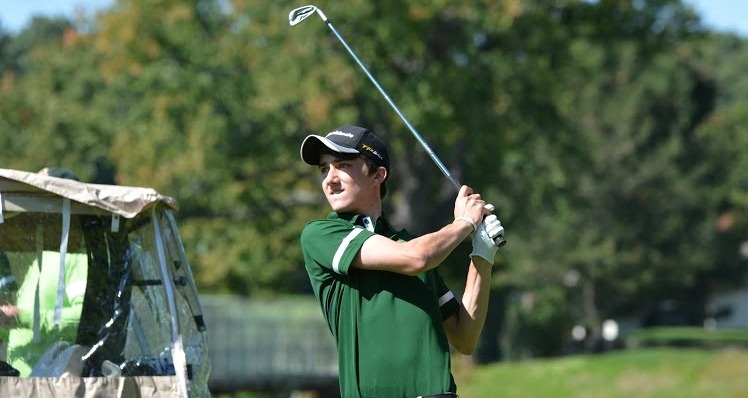 STAY CONNECTED: Facebook | Twitter | Instagram | YouTube
BE THE FIRST TO KNOW:Â Text & Email Alerts
DOWNLOAD OUR APPS:Â iOS (iPhone/iPad)Â |Â Android
DETROIT – Fresh off their season-opening round last weekend in Ohio, head coach Frank McAuliffe and assistant Ronnie Pollack, Jr. will enter Marygrove golf into the Shootout at Stonehedge Friday and Saturday (April 3-4) at Stonehedge North Golf Club in Augusta, Mich. The two-day event, hosted by Lawrence Technological University, will be the Mustangs last chance to refine their game heading into the Wolverine-Hoosier Athletic Conference championship April 16-17.
Tyler Newell (Livonia, Mich./Dearborn Divine Child High School) will look to build off of his team-low 85 from last week as the Mustangs take on a quality field during the two-day event at Stonehedge North. Newell will be joined by teammates Michael Kanalas (Rives Junction, Mich./Jackson Northwest High School) – a sophomore who shot a program-low for active golfers at Marygrove by posting a 76 at WHAC Jamboree Four on Oct. 6, 2014.
Jimmy Stewart (Punta Gorda, Fla./Charlotte High School) and Austin Valentine (Westland, Mich./Concordia-Ann Arbor) will also be in action this weekend. Stewart has helped the Mustangs in a full-time role this season, adding another strong presence to this year's squad before the team brings in arguably the deepest class in program history for the 2015-16 season.
Follow @MGroveGOLF on twitter or visit the Mustangs' official athletic website, marygrovemustangs.com, for all the latest score updates from this weekend's action.
GOLF CONTACT: Tim Johnston | [email protected]/* */ | @tjohnston56
MARYGROVE BROADCASTS: Mustang Sports Network | Twitter
FOLLOW THE TEAM 24/7:Â Twitter