Stewart's 85 Paces Men's Golf on Day One at Stonehedge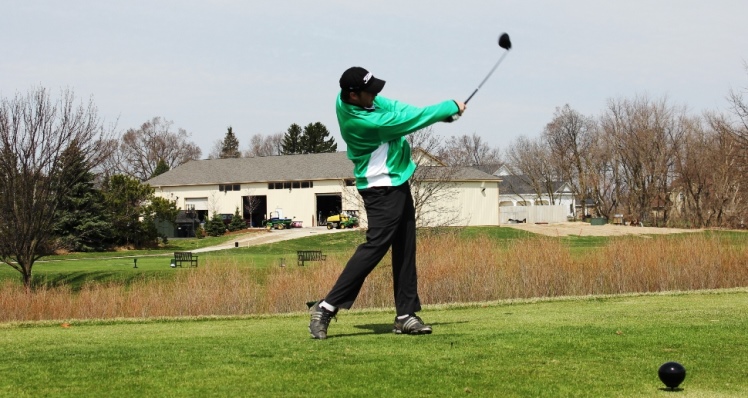 STAY CONNECTED: Facebook | Twitter | Instagram | YouTube
BE THE FIRST TO KNOW:Â Text & Email Alerts
DOWNLOAD OUR APPS:Â iOS (iPhone/iPad)Â |Â Android
AUGUSTA, Mich. — The men's golf team traveled to Augusta – not that one, the one in Michigan, for day one of two at the Shootout at Stonehedge North Golf Club. Hosted by Lawrence Tech, the two-day event started with mixed results for the upstart Mustangs golf program as the Green and Gold checked in at 12th.
Jimmy Stewart (Punta Gorda, Fla./Charlotte High School) led the Mustangs on day one with a +13 (85) thanks to a string of pars midway through the round. Stewart's 85 was a sign of great improvement from a week ago where the sophomore posted a 93 in the season-opening round in Ohio on March 27.
Stewart, one of three sophomores on the Mustangs roster from a season ago, knocked in seven pars in a row Friday. In total, the Florida native chimed in with 11 pars on his day-one scorecard to help keep the 85 in check after running into trouble on a few holes.
Michael Kanalas (Rives Junction, Mich./Jackson Northwest High School) checked in behind Stewart with an opening-round 91. Kanalas' 91 was helped by a stellar, four-hole stretch on the course Friday that saw the sophomore post a birdie and follow it up with three consecutive pars.
Austin Valentine (Westland, Mich./Concordia-Ann Arbor), playing in his second day of collegiate golf, had a great day on Stonehedge. The full-time men's soccer player walked into the clubhouse with a 93 to shave 12 strokes off of his game since last week's classic at Ohio Northern.
Tyler Newell (Livonia, Mich./Dearborn Divine Child), the Mustangs' low man last week in Ohio with an 85, posted an opening-round 97 at Stonehedge Friday.
The Mustangs will return to action Saturday (April 4) for day two at Stonehedge North Golf Club. A full recap will be posted on marygrovemustangs.com once scores are reported Saturday evening.
GOLF CONTACT: Tim Johnston | [email protected]/* */ | @tjohnston56
MARYGROVE BROADCASTS: Mustang Sports Network | Twitter
FOLLOW THE TEAM 24/7:Â Twitter