Dewdney-Sims, Dray Set to Compete in the Gina Relays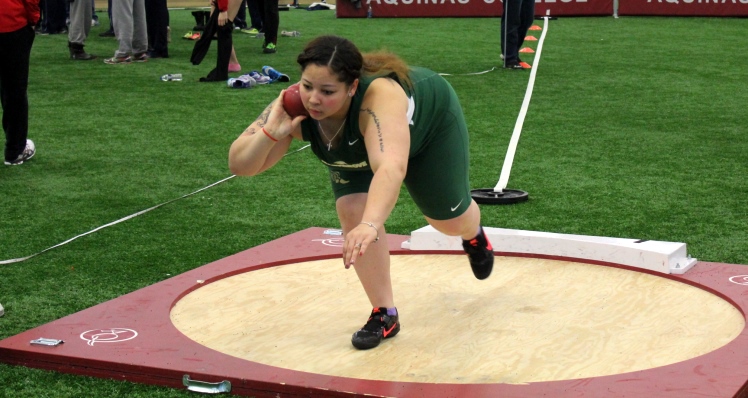 STAY CONNECTED: Facebook | Twitter | Instagram | YouTube
BE THE FIRST TO KNOW:Â Text & Email Alerts
DOWNLOAD OUR FREE APPS:Â iOS (iPhone/iPad)Â |Â Android
DETROIT — First-year head coach Cary Ossiff has led a resurgence within the Marygrove women's track & field program this season, particularly in the throws events as the Mustangs continue to impress under the new coach's leadership. A pair of throws specialists, Kassadie Dewdney-Sims and Theresa Dray, will be in action Friday and Saturday (April 24-25) on the campus of Hillsdale College to take part in the annual Gina Relays.
Teammates Amber Staudt (Novi, Mich./Schoolcraft College) and Rachel Staudt (Novi, Mich./Lawrence Tech) will remain in Detroit to focus on an upcoming final. The sisters excel in the javelin, an event that is scheduled to run concurrent with their final exam on Saturday. The Staudt's will return to action at the WHAC Championships on April 30 and May 1.
On Friday, Dewdney-Sims (Waterford, Mich./Mott High School) and Dray will begin the day in the shot put at 1 p.m. The shot put marks the first women's throws event of the weekend at Hillsdale's Ken Herrick Track and will be host to some of the region's top competitors from NCAA Division II, III and fellow NAIA institutions.
Dray (Davison, Mich./Davison High School) paced the Mustangs in the shot put last week (April 18) at Grand Valley State University after checking in with a throw of 10.55m. The 10-meter toss lifted Dray into 17th place while Dewdney-Sims followed closely in 24th after posting a throw of 9.98m.
Dray will also compete in Friday's hammer throw, an event the sophomore has made strides in throughout the outdoor campaign. Primarily a basketball student-athlete at Marygrove, Dray has worked hard in a limited capacity with Ossiff to post a team-high hammer throw of 32.08m.
Dewdney-Sims and Dray will close out Gina Relays action by entering the discus and javelin Saturday afternoon.
A full recap of this weekend's action from the Gina Relays will be posted on marygrovemustangs.com.
TRACK & FIELD CONTACT: Tim Johnston | [email protected]/* */ | @tjohnston56
MARYGROVE BROADCASTS: Mustang Sports Network | Twitter
FOLLOW THE TEAM 24/7:Â Twitter