Dray Closes Out Season at the Hillsdale Classic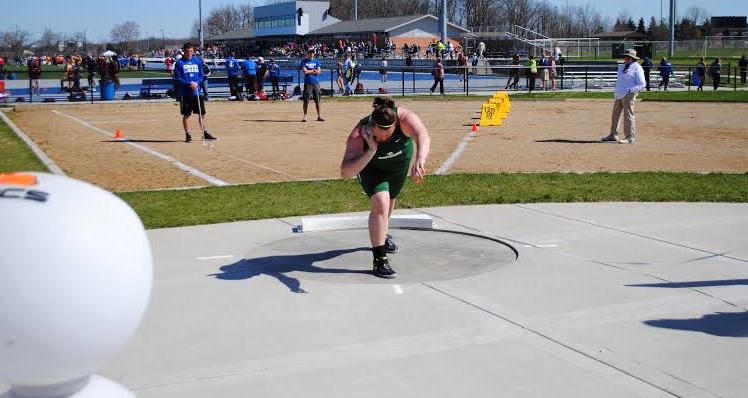 STAY CONNECTED: Facebook | Twitter | Instagram | YouTube
BE THE FIRST TO KNOW:Â Text & Email Alerts
DOWNLOAD OUR FREE APPS:Â iOS (iPhone/iPad)Â |Â Android
HILLSDALE, Mich. — Sophomore throws specialist Theresa Dray was back at it Thursday (May 7) in an attempt to hit a qualifying mark in the hammer throw at the Hillsdale Classic. Dray entered two events, the hammer and shot put, as first-year head coach Cary Ossiff and the sophomore focuses on another day of improvement for the young women's track & field team.
In her first season throwing the hammer, Dray has developed into a national contender with several throws near 40 meters. On Thursday, Dray was seeking an NAIA qualifying mark (46.94m) – a throw that would check in six meters better than the sophomore's previous personal best. In a loaded field of competition, Dray posted a 12th place throw of 37.19m to go along with a pair of 36-meter heaves.
The 37.19m toss was more than meter less than Dray's WHAC Championship effort from a week ago, but it was still a sign of a stellar 2016 season in the hammer event, according to Ossiff.
"Theresa has improved every single day in the hammer," said Ossiff. "I have no doubt Theresa will be in line with a national qualifying mark next season if she continues to work hard. It has been a pleasure to coach her and the rest of the team this season."
In the shot put, Dray chimed in with a 10.63m toss – a mark just shy of her PR from earlier this season. The 10.63m throw was enough to lift Dray into sixth place out of seven total competitors.
TRACK & FIELD CONTACT: Tim Johnston | [email protected]/* */ | @tjohnston56
MARYGROVE BROADCASTS: Mustang Sports Network | Twitter
FOLLOW THE TEAM 24/7:Â Twitter