Fearless Freshman Tame Tigers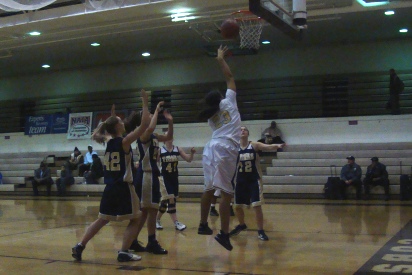 DETROIT, Mich.-The Lady Mustangs improved to 4-2 on the young season with a convincing (89-57) victory of the Tigers of Grace Bible College. The win was impressive due to the fact that the Mustangs were without their leading scorer this season.
Big play from the youngsters was needed if the Mustangs wanted to avoid the .500 mark and move to 4-2 this season. That is exactly what happened on Wednesday night as the youthful 'Stangs pummeled the opposition on both sides of the ball. In all, three freshman would lead the Mustangs in double figures.
Daiper-Dandies Arielle Edwards (Grand Rapids Ottawa Hills) and Keara Marks (Renaissance) had breakout games with 21 points each. Edwards followed up with six rebounds, while Marks pulled down four.
The third freshman to get in the mix was Edwards' high school teammate, Dominique Gordon. The quick guard blew past the defense for a career-high 16 points on the night.
The Mustangs will take their 4-2 record into Saturday when they host NAIA rival Concordia University. The Cardinals of Concordia have owned the Mustangs of late and promise to be another tough test on Saturday. Tip-off is 1pm at Detroit Jesuit High.