Weekly Notes: Women's Basketball Hosts Madonna in a Home Away From Home Matchup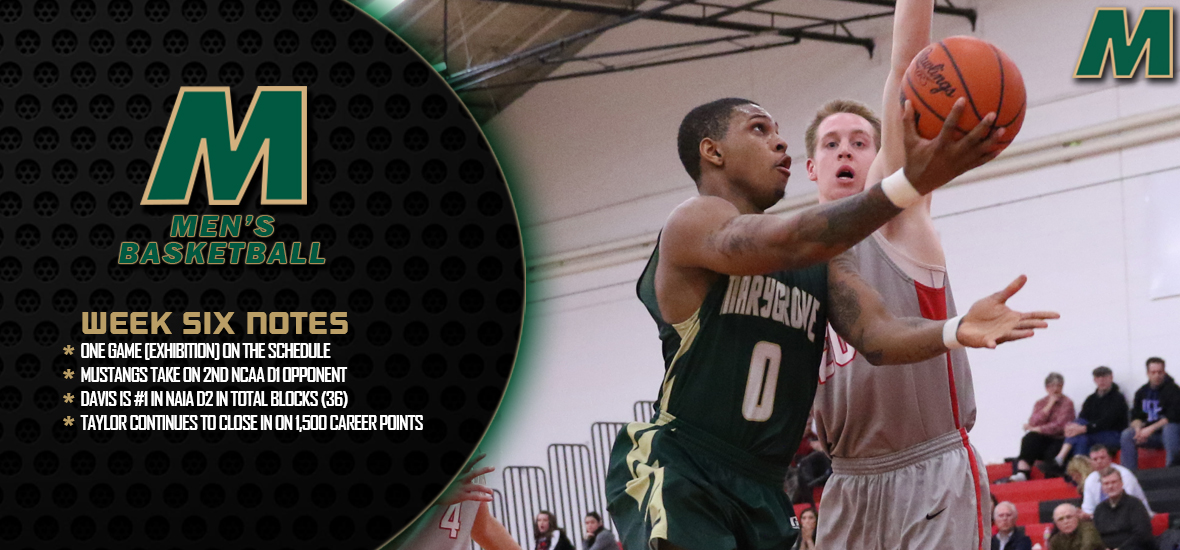 CLICK HERE FOR THE COMPLETE VERSION OF THE WEEK SEVENÂ GAME NOTES (PDF)
SATURDAY, DECEMBER 12
Marygrove (4-7, 1-5Â WHAC) vs. Madonna (2-7, 2-4 WHAC)
Time: 1Â p.m.
Location: Game played at Madonna University — Livonia, Mich.
Coverage: Live Video | Live Stats (Coverage begins at 12:45 p.m. on the Mustang Sports Network)
BY THE NUMBERS
32: Junior guard Elisha Major (Flushing, Mich./Flushing High School) has been one of many bright spots this season for the Mustangs, averaging a team-best 20 points by draining nearly eight field goals per game. Major's average accounts for 32-percent of the Mustangs nightly total. Check out Major's "major roll" in the infographic below! 
4:Â Four (4) Mustangs enter the week averaging nine or more points on the season. Major's 20 points per game leads all members on the team, followed by Shavarra Patton's (Detroit, Mich./Northwestern High School) 13.7 points per contest. Breanna Thomas and Taylor Kelley round out the team's top scorers with averages of 9.5 and 9.2 per game, respectively.
48: Rebounding has also played into the Mustangs' four-win start to 2015-16, led by the glass-crashing efforts of Breanna Thomas. Thomas paces all Mustangs with 9.1 rebounds per game, while Theresa Dray and Shavarra Patton reel in 7.5 and 6.8 rebounds, respectively, per contest for a Mustangs team that has collected 48 or more rebounds in their four wins.
MUSTANG REWIND
The Mustangs enter the week in the midst of the longest losing streak of the season, four games, after a pair of conference setbacks last week to Lawrence Tech and Siena Heights. The Mustangs' offense continued its difficult stretch by posting a pair of 44-point games against their conference foes despite Breanna Thomas' 12-point, 12-rebound night against Siena Heights.
CLOSING OUT THE 2015 CALENDAR
Only two games remain for the Mustangs in 2015, including Saturday's (Dec. 12) makeshift home tilt at Madonna at 1 p.m. The Mustangs will turn around less than a week later to host NCAA Division III Kalamazoo College on Friday (Dec. 18) at 6 p.m. The game's location is TBD.
HOME AWAY FROM HOME
The Mustangs return to the Activities Center on the campus of Madonna University (MU) on Saturday "hosting" the Crusaders at 1 p.m. The makeshift home game is the second game hosted by the Mustangs at MU.
COACH COVINGTON'S CORNER
"We have been battling day-in and day-out despite facing extreme limitations due to injuries and depth," remarked third-year head coach Craig Covington. "Madonna is a talented, well-coached team that presents a great challenge for our team heading into Saturday's game."
DID YOU KNOW?
The Mustangs' hot 3-0 start to the 2015-16 marked the best beginning to a campaign since the Green and Gold joined the NAIA in 2007-08.
SCOUTING MADONNA
Led by 10th year head coach Carl Graves, the Madonna University Crusaders enter the week with an overall record of 2-7 and a 2-4 mark in WHAC action. Graves and the Crusaders are battling injuries, but have put together a pair of quality WHAC wins by defeating Aquinas and Cornerstone. Becca Sabol and Lindsey Hernden lead the Crusaders with 15 and 13.8 points per game, respectively.
THE RACE TO 60+ POINTS
For head coach Craig Covington and the Mustangs, getting to 60 points has been key so far this season. The Mustangs are a perfect 4-0 overall and 1-0 in conference play when tallying  60+ points. The Mustangs are 0-7 when scoring less than 60 points this season.
DOUBLE-DOUBLE REPORT
The Mustangs have already posted 10 double-doubles on the season, led by four from Breanna Thomas and three each out of Theresa Dray and Shavarra Patton. The Mustangs had seven double-doubles in all of 2014-15.
THE MUSTANG SPORTS NETWORK
Watch all home games via live video on marygrovemustangs.com/live – your home for in-game coverage with Jeremy Otto and Brendan Johnson on the call.
INFOGRAPHIC OF THE WEEK
MUSTANG WEEKLY — DEC. 7-12
STAY CONNECTED: Facebook | Twitter | Instagram | YouTube
BE THE FIRST TO KNOW:Â Text & Email Alerts
DOWNLOAD OUR APPS:Â iOS (iPhone/iPad)Â |Â Android
WOMEN'S BASKETBALL CONTACT: Tim Johnston | [email protected]/* */ | @tjohnston56
MARYGROVE BROADCASTS:Â The Mustang Sports Network (MSN)Â |Â MSN Twitter
WOMEN'S BASKETBALL:Â Twitter