Dray Sets PR in Hammer Throw to Open Gina Relays Action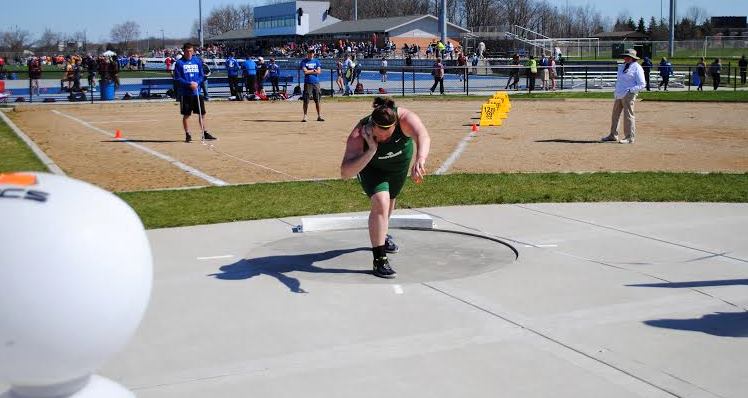 STAY CONNECTED: Facebook | Twitter | Instagram | YouTube
BE THE FIRST TO KNOW:Â Text & Email Alerts
DOWNLOAD OUR FREE APPS:Â iOS (iPhone/iPad)Â |Â Android
HILLSDALE, Mich. — After an improved showing in the shot put on Friday (April 24), sophomore Theresa Dray ended the Mustangs' opening-day action at Hillsdale College's Gina Relays with a PR performance in the hammer throw. The PR performance was the latest milestone in a season of improvement for Dray, Kassadie Dewdney-Sims and the rest of the Mustangs under first-year head coach Cary Ossiff.
On Friday, Dewdney-Sims and Dray opened their weekend in the shot put event against a loaded field. The sophomores posted marks relative to last week's Al Owens Classic at Grand Valley State University, with Dewdney-Sims checking in .04m behind her latest toss with a measurement of 9.94m Friday afternoon. The near 10-meter toss landed Dewdney-Sims in 25th place overall as the sophomore continues to recoup after missing time at the beginning of the outdoor season.
For Dray, Friday's effort in the shot put resulted in a slight uptick from last week as the Davison-native posted a throw of 10.63m. The toss lifted Dray into a top-20 spot at the Gina Relays and was a .08m improvement off of the sophomore's Al Owens Classic mark.
Dray returned to action less an hour later in the hammer throw, posting a PR heave of 36.11m. The PR toss shattered Dray's old mark by more than four meters. Dray's former PR of 32.08m was set at the Northwood University Open on April 11, the sophomore's second ever attempt at the hammer throw.
The 36.11m heave on Friday left Dray less than 10 meters off of a top-30 spot nationally – a feat set a mere four events into her young hammer throw career.
Dray and Dewdney-Sims will return to Gina Relays action Saturday (April 25) to compete in the discus and javelin events. A full recap will be available on marygrovemustangs.com once official results are available.
TRACK & FIELD CONTACT: Tim Johnston | [email protected]/* */ | @tjohnston56
MARYGROVE BROADCASTS: Mustang Sports Network | Twitter
FOLLOW THE TEAM 24/7:Â Twitter