Women's Track Completes Final Test Before WHAC Meet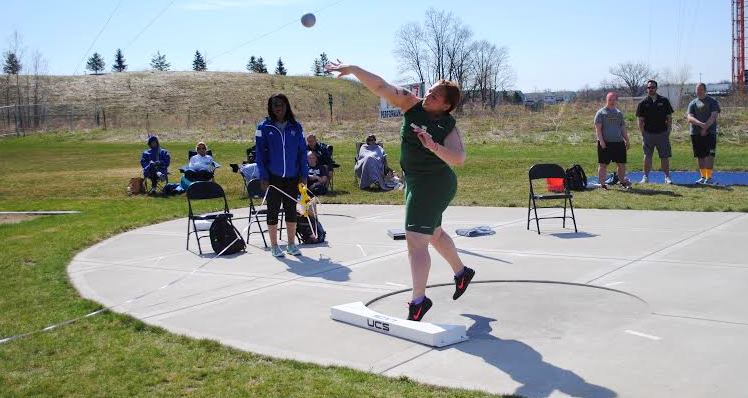 STAY CONNECTED: Facebook | Twitter | Instagram | YouTube
BE THE FIRST TO KNOW:Â Text & Email Alerts
DOWNLOAD OUR FREE APPS:Â iOS (iPhone/iPad)Â |Â Android
HILLSDALE, Mich. –Â For the second time in as many days, head coach Cary Ossiff led a shorthanded women's track & field squad into action at the Gina Relays. The Mustangs' Kassadie Dewdney-Sims and Theresa Dray returned to Hillsdale, Mich. to take part in the famed Gina Relays, this time to compete in the discus and javelin for their first-year head coach.
The Mustangs entered Saturday (April 25) without sisters Amber Staudt and Rachel Staudt due to a final exam back on Marygrove's northwest Detroit campus.
In the discus, Dewdney-Sims (Waterford, Mich./Mott High School) took home a top-25 spot against a jam-packed, talented field after a toss of 29.10m. The 29-meter toss was a vast improvement from Dewdney-Sims top throw a week ago, 24.61m, as the sophomore continues to get comfortable with outdoor action after being sidelined for most of the 2015 campaign.
Dray followed Dewdney-Sims in the discus, chiming in at 26.95m to finish in 31st place. The near 27-meter toss was a step up from the sophomore's last attempt at the discus on April 11 at the Northwood Open.
Dray did not compete in the discus event last week at Grand Valley State's Al Owens Classic.
The pair of Mustangs finished Gina Relays action by attempting the event the missing Staudt sisters have exceled in this season – the javelin. In the javelin, Dewdney-Sims heaved the stick 18.02m while Dray edged in front with a toss of 18.38m. Dray checked in with an 18th place finish with Dewdney-Sims following closely behind in 20th overall.
The Mustangs return to action Thursday and Friday (April 30-May 1) at the 2015 WHAC Championships held at historic Houseman Field in Grand Rapids, Mich.
TRACK & FIELD CONTACT: Tim Johnston | [email protected]/* */ | @tjohnston56
MARYGROVE BROADCASTS: Mustang Sports Network | Twitter
FOLLOW THE TEAM 24/7:Â Twitter