Rim Rockin' Mustangs Beat Cardinals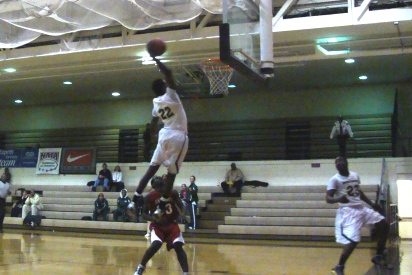 DETROIT, Mich.-You can hear the ESPN theme music now! The Mustangs were full of "Top 10" plays on Wednesday evening. When it was all said and done, the Mustangs took home a convincing 74-57 victory via four dunks, one alley-oop, and plenty of jaw dropping action for the home crowd.
Junior forward Justin McKinney (Mumford) had a career night with 24 points in the rout of the Andrews University Cardinals. He slammed home all four dunks on the night, none more impressive than the one gift wrapped to him via Marcus Hopkins.
After a steal, Hopkins took the ball past half court and dished it off the backboard to a trailing McKinney who reached back to flush it home (pictured above)! The exciting play put the Mustangs ahead by as many as 23 (points) before a late Cardinal rally cut into the lead as time expired.
McKinney followed up his 24-point performance with a stat-stuffing five rebounds, five steals, and four assists. Marcus Hopkins (Southfield) had his best overall game of the season with nine points and eight assists in the 17-point victory.
The Mustangs lone senior, Franklin Murdock, invited all Cardinals to his block party and finished with 11 points and 7 blocks. DeAundray Armstrong (Community) fought off foul trouble all game to provide 12 points, four rebounds and a block.
The Mustangs (2-7) will probably face their toughest test to date this season on Friday night. The team is set to travel to Central State University (OH) for the annual Ben Waterman Classic. On Friday, the Mustangs will take on host Central State at 7pm.
Central State is in the midst of one of their finest seasons after beating NCAA Division I Toledo University and many other high profile teams. The Mustangs will finish the classic with a Saturday matchup against Wilberforce University (OH) at 5pm.