Edwards, Martin Come Up Big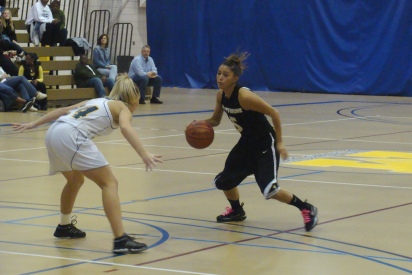 DETROIT, Mich.-The tandem of Arielle Edwards and Maria Martin came up huge for the Mustangs in their rematch with the Wolves of U of M-Dearborn on Wednesday night. Strong play by the flashy pair kept the Wolves at bay and propelled the Mustangs to an 83-77 victory.
The win avenged a season-opening loss at UM-Dearborn by 25 points (86-61). A great defensive performance by the Mustangs forced the Wolves into 21 turnovers on the night. The thefts turned into opportunities for the Mustangs to thrive offensively en rout to an 83-point night.
Mental toughness was on display as the Mustangs held off numerous comeback attempts by a hungry Wolves squad. The team stood strong and only allowed one lead for the Wolves (12-11) early in the ballgame. A near flawless first half put the Mustangs up by as many as 11 (points) with four minutes to play only to see the Wolves cut it to eight points at the break, 41-33. After the break, the 'Stangs held true to their first half form and cruised to a much-need victory against their NAIA counterpart.
Arielle Edwards (Grand Rapids Ottawa Hills) led the Mustangs with 24 points (20 second half). The freshman forward stepped outside the paint to drop in a career-high four triples in the second half as well.
Maria Martin attacked the basket for 20 points in the victory. After a 2-for-7 start from the line, Martin connected on her last six attempts (8-for-13) to come through in the clutch. Junior guard Jacquis Bullock turned in a well-rounded performance with 8 points, 9 assists, and 5 steals (season high).
The Mustangs take their 5-3 record on the road to participate in the 2009 Crimson Wave Invite at Calumet-St. Joe's this weekend. The host Crimson Wave will take on the Mustangs first at 7:30pm Friday. The victor advances to play winner of Ashford University vs. Mid-Continent College. Follow all the action right here on www.marygrovemustangs.com!