Mustangs drop regular season finale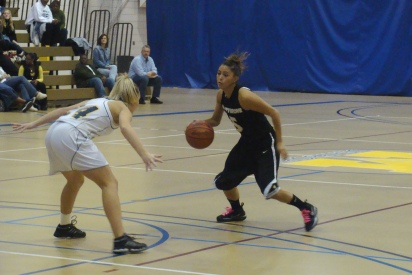 DETROIT, Mich.-The 2009-10 regular season came to a close on Tuesday evening inside UD Jesuit High School. The Mustangs squared off against USCAA foe Rochester College for a final tune-up before heading to the 2010 A.I.I. Conference Tournament.
The visiting Warriors topped the Mustangs, 75-60.
All was not lost last night in the regular season's final game. It has been a year of ups and downs for the lady ballers that were plagued with injuries, some season-ending, the entire 2009-10 season. With the loss on Tuesday night, the Mustangs finished the regular season with a 9-15 record. After an even 8-8 start to the campaign, the Mustangs found it tough to tally one in the "W" column by finishing the season losing 7-of-8.
As was the case for most of the season, strong underclassmen play continued for the Mustangs against the Warriors. Arielle Edwards (Grand Rapids, Mich./Ottawa Hills) led the Mustangs with 20 points, while fellow freshman Keara Marks (Detroit, Mich./Renaissance) chipped in 11 points. Sophomore Maria Martin exhibited another well-rounded game with 9 points, 5 rebounds, and 5 assists.
The Mustangs have little time to prepare before heading to Gary, IN this weekend. On Friday at 7:30pm, the Mustangs take on the host and #2 seed Indiana Northwest Redhawks. The Redhawks are 2-0 vs. the Mustangs this season, including a 68-36 decision only days ago. Keep it locked to www.marygrovemustangs.com for the latest A.I.I. Tournament news and results. GO MUSTANGS!